Future has broken his silence on a viral video where his bodyguard got knocked out at the airport in Ibiza.
According to the Atlanta rapper, he was not a witness to the incident and had already left the airport when the incident went down. He also noted that the attackers tried to ask him for a photo and he turned them down and they got angry. Future posted a statement on his Instagram Story, where he gave his side of the story. There is a good chance that he has already arrived stateside and will shed some more light on the horrific attack.
"Basically these fake goons ask to s*ck my d*ck for a picture I toldem Noooo…apparently they get angry and do sum sucker sh*t," Future wrote. "I left the airport,they edit the video they filmed and sent it to blogs real real tuf guys …what they did to security I didn't see period,I'm not a witness to anything…leave me out anything have to do with this incident."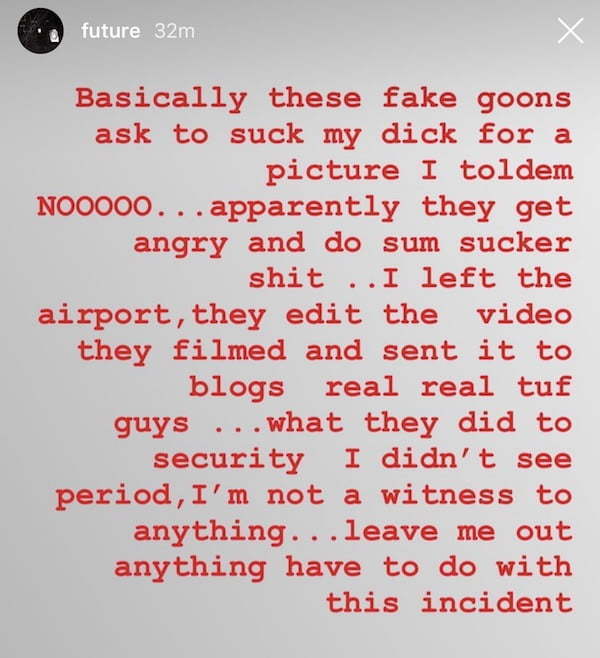 Future has not said anything else since issuing that short statement, and the condition of his bodyguard is unknown at this time. Police officers are actively investigating the attack, but so far, there are no reports of an arrest. The attack sparked outrage on social media with fans asking for the group of guys to be arrested and prosecuted immediately.
Some fans drew similarities to the recent street brawl involving A$AP Rocky which landed the Harlem rapper behind bars in Sweden. Rocky has been held without bond for close to a month and will likely be charged with assault. Hip Hop fans believed his race played a role in his lengthy detention and the seriousness of the legal troubles he is facing.