Chris Brown shared a special moment with Jamie Foxx's younger sister, who has Down Syndrome while celebrating his latest number one album Indigo.
Foxx's sister, 33-year-old DeOndra Dixon, was seen in a video posted to his Instagram Tuesday morning telling Chris Breezy "I love you." Brown then leaned over and kissed her on the forehead. It looks as though Foxx, Chris Brown, and DeOndra were all in a studio session listening to Chris's new project.
"Congratulations @chrisbrownofficial on your number 1 album INDIGO… #indigoseason," the caption read on Jamie's Instagram. "… you are beyond talented… and I salute uu… and thank u for the beautiful moments you share with my sister @deondradixon You lift her so high that the tears well up in her heart and mine… thank u #love #music when @chrisbrownofficial says "I love u" and @deondradixon says "I love uu back"…[cloud] 9. "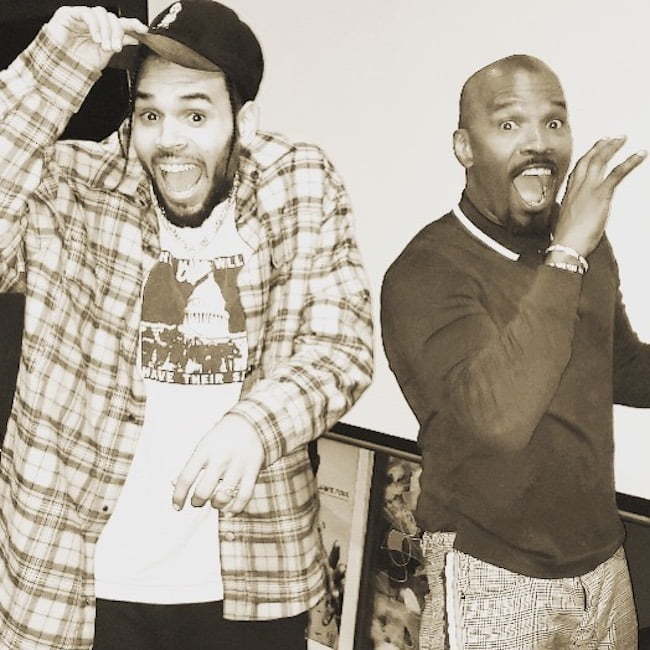 Back in August, the comedian/actor/singer opened up about his sister's condition in an interview with Dateline NBC. He said that DeOndra taught him how to live, and that helps to keep him grounded. DeOndra lives with the 50-year-old icon in LA.
This isn't the first time the Grammy and Oscar winner was seen with Chris Brown. In June Chris posted a photo of the two superstars together with the caption "ME AND BIG BRO COOKING," leaving fans to guess that Jamie Foxx would make an appearance on Indigo. However as it turns out, Jamie Foxx did not have a feature on the album.
The two R&B singers have previously collaborated in the past. Chris Brown was featured on Jamie Foxx's single "You Changed Me" in 2015 and Jamie hopping on "Text Message," a single that Chris dropped in 2017.
And with this recent showing off how close Chris is with Jamie's family, it's clear the two have a special bond.