Was Tekashi 6ix9ine transferred to a secret location?
While other rappers are out there rallying behind A$AP Rocky who is currently in a Swedish detention center, Tekashi 6ix9ine is getting zero support from his peers in hip hop. The "FEFE" rapper is getting ready to take the witness stand in court as one of his associates is set to go on trial in September for racketeering, gun, drug charges. Sources are saying that 69 was moved from his holding facility in Brooklyn to a secret location where he is not allowed any visitors or phone calls from the outside world.
One of his baby mamas, Layna, recently went on a rant on IG where she also backed up the claims saying that no one is allowed to see 6ix9ine for the past couple of months.
"@6ix9ine doesn't get jail visits from these clout chasing birds nobody can get contact with him as they please that visit was the last visit that clout chicken had because he is transferred somewhere different no one can see him or talk to him ni**a is in westbubbaf*** now until his sh*t is done with ya Instagram dummies," she wrote.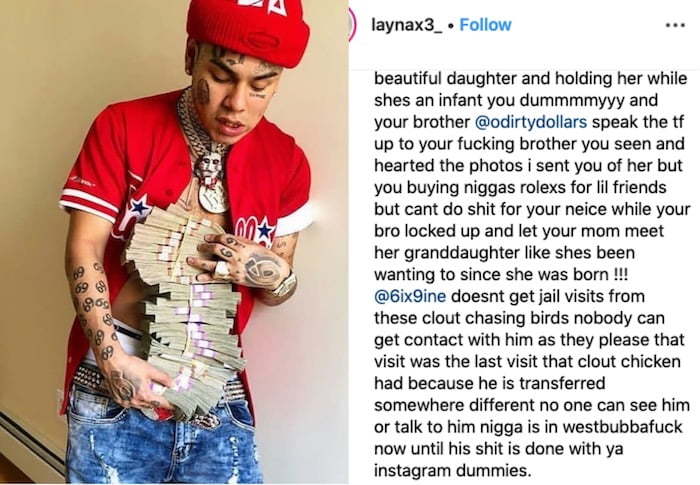 Of course, she also aired him out for not supporting his daughter who she also shared a photo. She is saying that Tekashi 6ix9ine's last visit was from his girlfriend Jade earlier this year, and since then, no one has been able to visit or talk to him on the phone.
69 is also bolstering his legal defense team by hiring two new lawyers, one of whom was recently hired by JAY-Z to help with 21 Savage's immigration case.