Buju Banton performed two well-received sets at SummerJam in Cologne Germany and Amsterdam despite threats of disruption from gay rights activists.
The Gargamel, Buju Banton, seems very happy to have touched down in Germany last weekend for his long-awaited performance at the 2019 SummerJam Festival. Of course, the artiste scored big-time among the fans at the event, which is held annually at the Fulingher in the city of Cologne, and also wrote glowingly about it.
"Germany, we finally reunite after ten long years… it was pleasure to dance and sing along with you," the artiste captioned the photo slideshow of himself in action in the western European country.
His German fans were happy to see him too. But they were not the only ones, as many left from other countries to see the Stamina Daddy in action at the three-day event, which is one of the largest Reggae, Dancehall and Hip Hop festivals in Europe.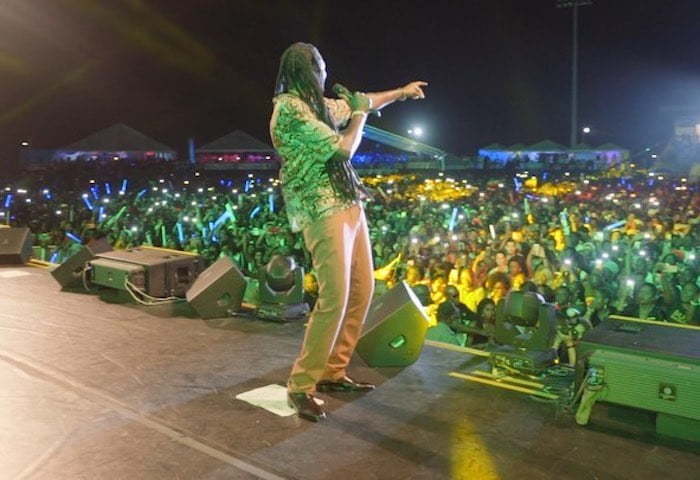 "My family & I traveled from London to see you last night. Til Shiloh album holds a special place in our hearts and you helped us create more memories finally seeing you live! Thank you so much for your music, your message & you love. Truly any amazing show! Stay blessed," dvinae said in her congratulatory post.
An enthralled fationaantoinette wrote: "I did not know that you are such a TEASER @bujuofficial! Cologne was simple AMAZING……you kept giving more, and more, and so much more! I love everything about your performance! BLESSINGS."
Buju's earlier show in Amsterdam in the Netherlands was also the talk of the town.
"The pleasure was ours. As usual you didn't forget the ladies. I traveled from England to Amsterdam and stood over 10 hours @bujuofficial. It wasn't like where have you been it was more like. It's still your world thank you," k.crazy scribed.
The artiste rubbed shoulders with a lineup of some of Jamaica's hottest Reggae and Dancehall stars, including Koffee, Agent Sasco and Popcaan.
His upcoming gigs include Festival Night Two of Reggae Sumfest in Montego Bay where he headlines a star-studded lineup featuring Beres Hammond, Etana, Romain Virgo, Jah-9, Protoje, Christopher Martin and Dalton Harris.
Buju is also booked to perform on August 2 at the Reggae Sun Ska festival at Nouvel-Aquitaine in France, will resume his Long Walk to Freedom Concert series in Geel, Belgium August 3, and will perform on August 10, in the Eastern Caribbean island of Antigua.