50 Cent added Jackie Long to his growing list of targets on Instagram.
50 Cent filed for bankruptcy only a few years ago, and now he is lending hundreds of thousands and even millions of dollars to any and everyone who asked him. The only requirement is not to ever default on your loan. The G-Unit rapper suddenly turns his attention to Jackie Long on the Gram on Thursday where he asked him to pay up by Monday or else.
"@hinikoj how you in a picture with this ni**a Jackie and he owe me money, now you owe me too. If he don't pay you gonna pay Monday," 50 Cent wrote in one of his posts attacking Long. "This punk azz ni**a @jackielong better give me my money. You on BET now you can have mine by Monday fool. #lecheminduroi #bransoncognac."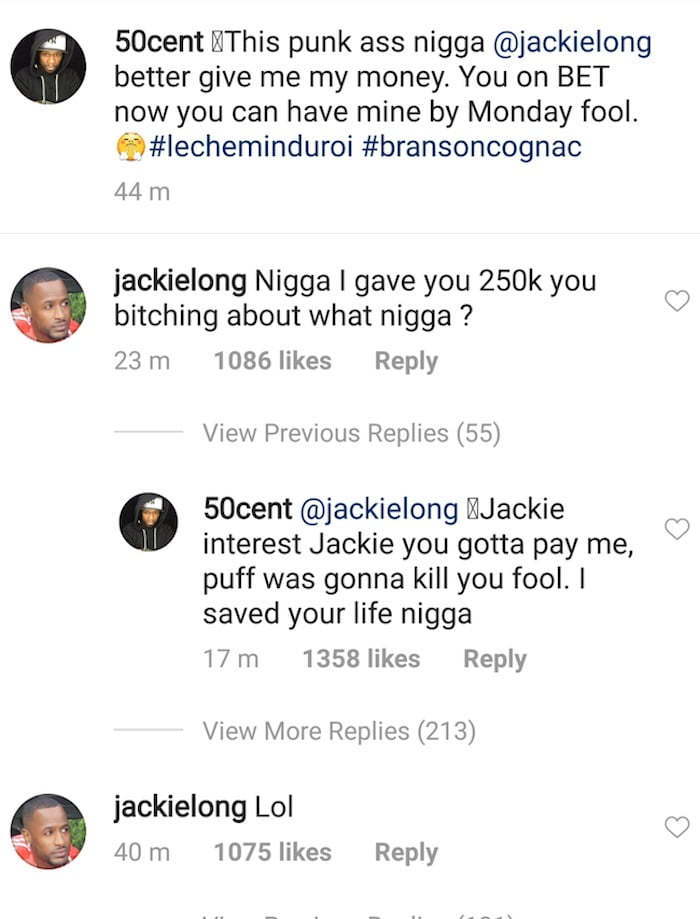 Jackie Long quickly clapped back in the comments writing, "Ni**a I gave you 250k you b**ching about what ni**a? Fifty responded saying that he saved Long's life because Diddy was going to kill him. "Jackie interest Jackie you gotta pay me, Puff was gonna kill you fool. I saved your life ni**a," the G-Unit rapper wrote.
At least Ja Rule, Teairra Mari, and Young Buck get a break from the onslaught brought on by 50 Cent on social media. We will be watching this one closely to see where it leads because Fif almost always comes out on top in his beefs.