Rihanna was missing in action at this year's Met Gala, and she knows it.
The Bajan pop star missed the 2019 Met Ball in New York because she decided to stay home and play with her makeups. Rihanna posted a screenshot of a tweet sent by one of her followers who seemed to be a bit annoyed that she decided not to attend the annual Met Gala. As usual, celebrities were out in their numbers wearing their most eye-popping outfits. You can check @urbanislandz Instagram for some of the photos.
"Rihanna at home playing with that f***ing makeup," her fan tweeted while sharing a photo of RiRi's Fenty Beauty makeup collection.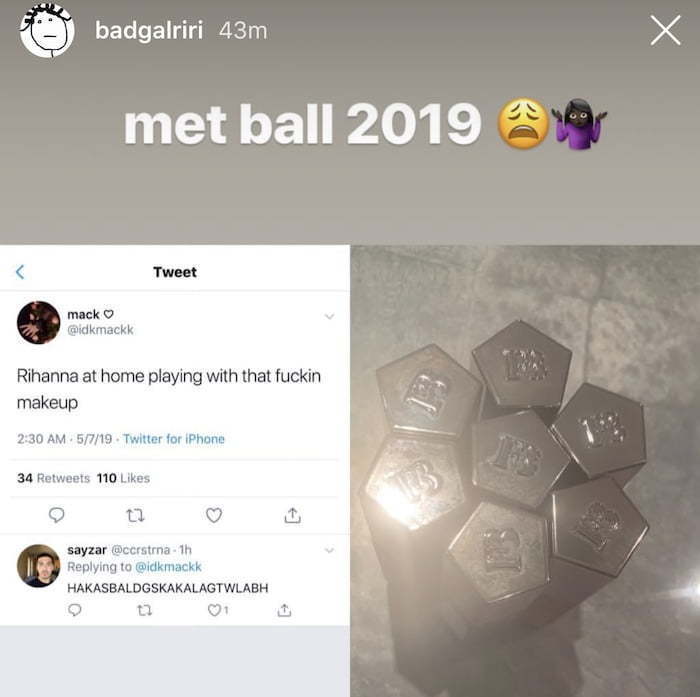 Rihanna found some humor in the post and took a screenshot and posted it on her Instagram Story. She captioned the post, "Met ball 2019," while adding some emojis. The "Work" singer is always a staple at the Met Ball because she always makes a grand entrance and almost always turns the most heads. So being missing this year left a huge void.
Nevertheless, Rihanna has been working hard building her fashion and makeup empire while also recording her long-awaited new album. So perhaps she just didn't have the time to put together an epic outfit for the event.
On a side note, two of Rihanna's ex-boyfriends, Chris Brown and Drake, are about to drop a collaboration. The two singers once went to war over RiRi and now their pals making music together. Chris Brown previewed the collaboration at his birthday party in Los Angeles on Sunday.