Chris Brown is a huge Rihanna stan; he just joins her fans in calling for her to release new music.
The "Heartbreak On A Full Moon" singer posted two comments on a photo that Rihanna posted of herself promoting her Savage X Fenty lingerie. RiRi is the best person to promote her products because she effortless looks so stunning, hence you can't blame Chris Brown from dropping a comment letting her know how good she looks. In one of his comments, the singer wrote, "Music soon please."
The move earned him a bit of a backlash from some of Rihanna's overzealous fans, but Chris Brown pretty much just ignore them and drop a second comment. "Bought [sic] to break da internet. Keep rising queen," he wrote. RiRi fans have been hammering in in the comments, but there are still a lot of fans who are support Breezy.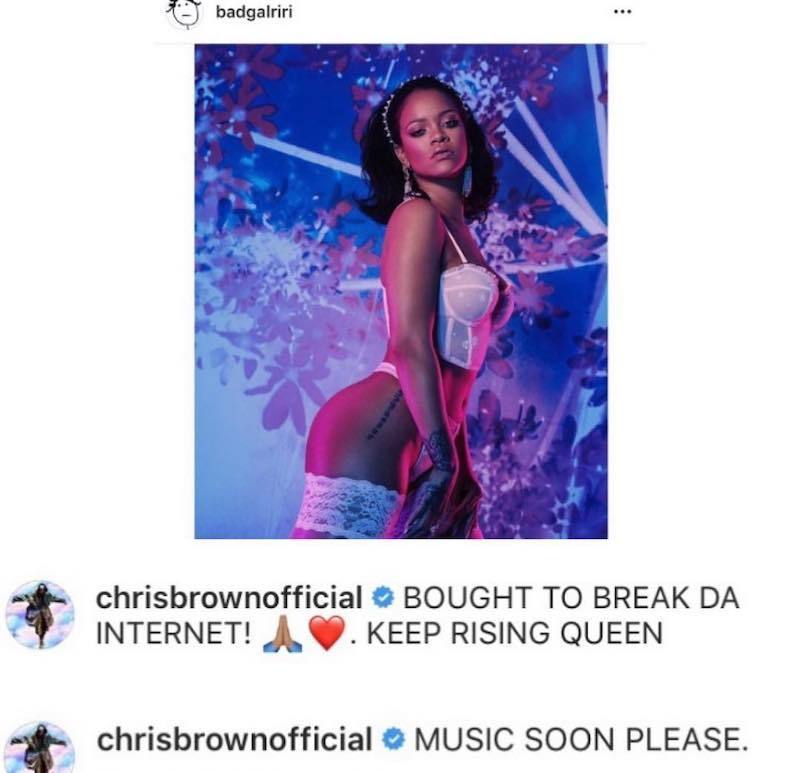 "Some of you in this comment are just hater all he is doing is complimenting her and asking her for new music, and I see nothing wrong with that," one fan wrote. "As a matter of fact, it shows maturity. While all Y'all here bickering the two of them are probably on the phone talking."
While Rihanna fans are begging her to release new music, she is busy building her fashion and makeup empire. Over the past couple of days, we saw her make several posts related to new releases in her Fenty Beauty makeup line and her Savage X Fenty lingerie.
Chris Brown seems to be more focus on his music than fashion. He too has been busy promoting his Black Pyramid clothing line, but he also has a new album coming out soon, and he is getting ready to go on tour with Nicki Minaj. Perhaps Chris Brown and Rihanna can link up and make music together again, or maybe that is still a pipe dream.