Alkaline went into his old archive to take some new shots at Popcaan on Instagram.
The Alkaline and Popcaan beef is not yet dead, or perhaps the Vendetta leader is trying to revive the feud. The two deejays have been subliminally taking shots at each other on the Gram and in songs. Over the weekend, Alka posted a video showcasing his accomplishments, and in his archive, he showcased his "Microwave" plaque for the infamous diss track that ruffled up some feathers in the Unruly camp in 2017.
"Never forget, behave unnu self you hear," Alkaline said in the clip while pointing on his "Microwave" plaque.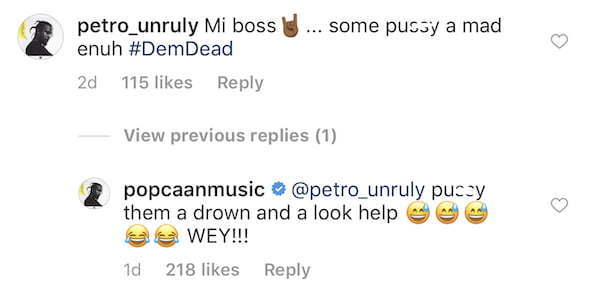 Popcaan responded to a comment from Petro about the diss from Alkaline. "Mi boss some pu**y a mad enuh #DemDead," Petro wrote while Popcaan responded, "Pu**y them a drown and a look help WEY!"
Last year November, Popcaan dissed Alkaline on Instagram calling him "battywash man." At the time Alka didn't respond and opted instead to release a gritty new single.
Perhaps these two dancehall stars should stop taking subliminal shots and drop some diss tracks or just end this beef altogether. One thing is sure, they're not making peace anytime soon.