Nicki Minaj is forced to address more tour cancellations on the European leg of her Nicki WRLD tour.
Following the cancellation of her tour in Bordeaux, France on Sunday, due to technical issues, another date for Nicki Minaj tour was put on the chopping block. Her tour date for Friday night at Dublin's 3Arena has been cancelled, and her fans are far from happy. Just like her fans in France, the folks in Dublin started chanting Cardi B name. Some fans even accused the rapper of lying to save herself after she said that weather was to be blamed for the cancellation.
"Gee No one is lying. The ferry delays all day have been due to weather is the issue of truck/ ferry making it. You can talk to Scott Mantel! Directly who sent that msg above who is the Head of international Touring and key Partner of lcm," Nicki wrote.
"Gee and Jean, please let Nicki know that I'm on standby to fill her in on this situation directly. As we all know, due to weather issues not all the trucks made it to Dublin earlier today, in fact the last few just arrived in Dublin now," Nicki Minaj added in a message posted on Instagram Story.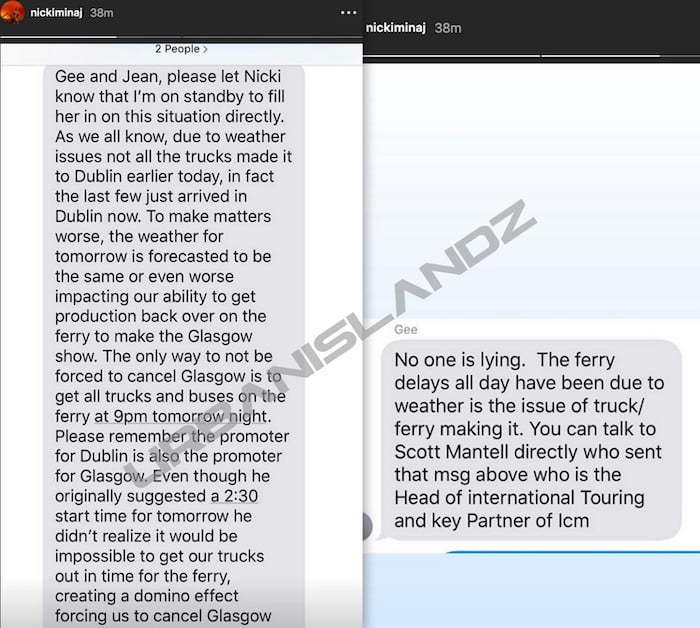 The Queen rapper added that her show in Glasgow for Saturday is also canceled as the weather is forecast to be the same. "To make matters worse, the weather for tomorrow is forecasted to be the same or even worse impacting our ability to get production back over on the ferry to make the Glasgow show," she wrote.
"The only way to not be forced to cancel Glasgow is to get all trucks and buses on the ferry at 9pm tomorrow night. Please remember the promoter for Dublin is also the promoter for Glasgow. Even though he originally suggested a 2:30 start time for tomorrow he didn't realize it would be impossible to get our trucks out in time for the ferry, creating a domino effect forcing us to cancel Glasgow."
Despite having valid reasons for the cancellation of her tour dates, Nicki Minaj is feeling some fallout from her fans who have been venting their frustration on social media.
After the cancellation of the #NickiWRLDTour show in Dublin, upset Nicki Minaj fans chanted Cardi B's name as a retaliation. pic.twitter.com/6HdCr9lMmr

— Pop Crave (@PopCrave) March 15, 2019
J'suis moooort tout le monde hurle Cardi B à Bordeaux ??? #NickiMinaj #concertannule pic.twitter.com/PBa9mDw1AY

— ? (@imchakib) March 9, 2019