The Weeknd just hinted he could be dropping some new music or an album tonight.
Moments ago, The Weeknd sent out a tweet which turns out to be his first post on Twitter in a while, two weeks to be exact. "Red or blue pill?" he tweeted while adding an iconic photo of Morpheus from the Matrix played by Laurence Fishburne. Perhaps he is just announcing his presence on Twitter but while we debate his intentions, let's not forget that Thursday night is known as album night. Midnight on Thursdays is usually when artists released their new music to capitalize on the weekend fever.
On March 30, 2018, The Weeknd surprised his fans when he released his latest EP, My Dear Melancholy. The project was largely about his relationship with Bella Hadid and Selena Gomez. The emotional compilation features songs like "Call Out My Name" which saw the Canadian singer going back to his dark R&B roots.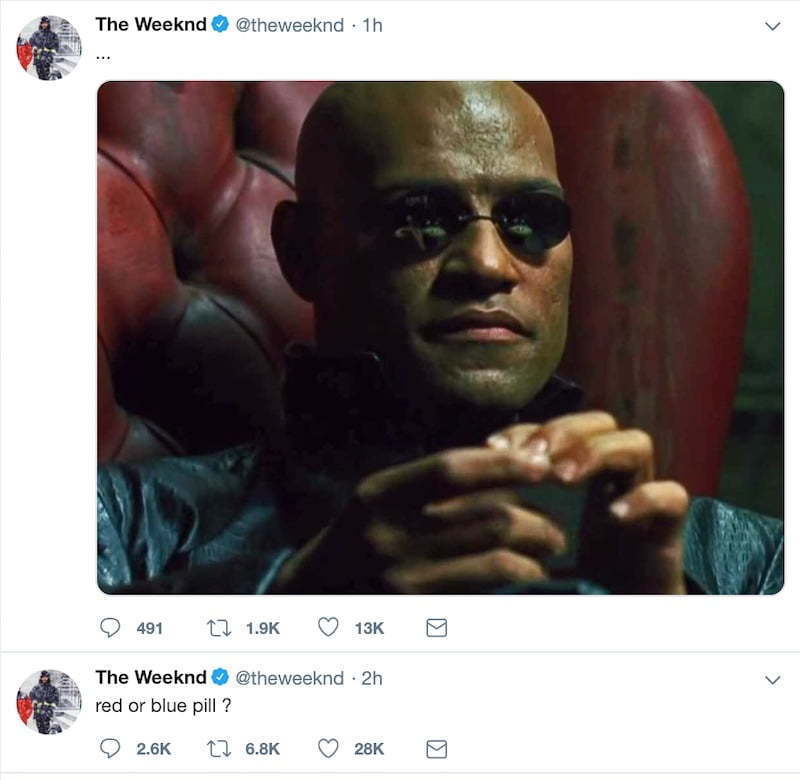 In January of this year, The Weeknd tweeted that he will not be releasing any more daytime music. "No more daytime music," he wrote on Twitter, which essentially means that he won't be releasing any more pop songs and will more likely go back to his roots.