Cardi B addresses rumors that Blueface made some disparaging comments about her booty stink.
The rumors have been circulating online for the past week, and now both Cardi B and Blueface are denying the claims. Gossip blogs ran with the story claiming that the Los Angeles rapper made some nasty comments about Offset's wife after shooting their new music video for "Thotiana" remix. The West Coast rapper allegedly made a statement claiming that Cardi B's "twerk wind" smell like a "dead raccoon." The Invasion of Privacy rapper took to her Instagram account to call out the blogs who published the story.
"I should run a whole blog at this rate they using my name for clickbait," Cardi wrote on the Gram. "People be trying so hard to destroy me. Fake stories everyday. It's not going to work I'm too blessed."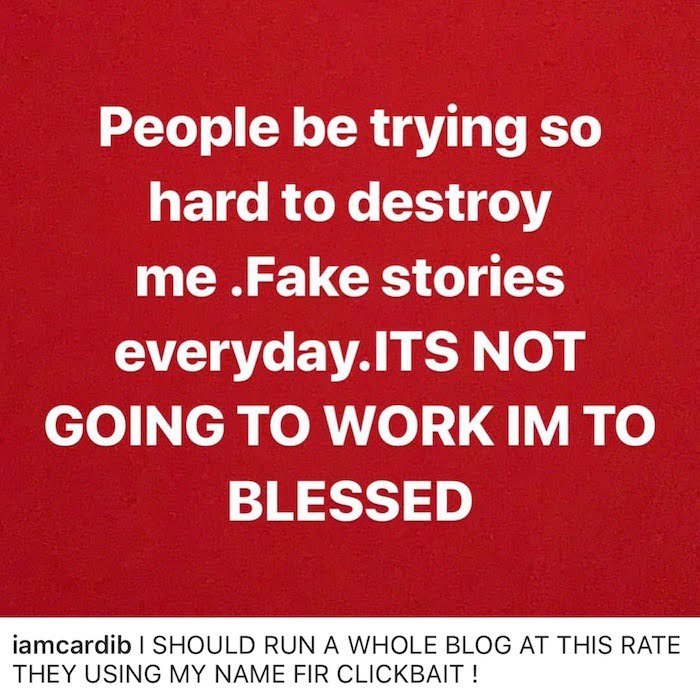 Blueface also responded to the story saying it's fake news. "This sh*t fake as a b**ch y'all got both of us f***ed up discredit any site posting this because that must mean everything else they posting fake news as well," he wrote.
The bottom line is Blueface is saying that he never make those comments. Cardi also has a right to feel offended by the story.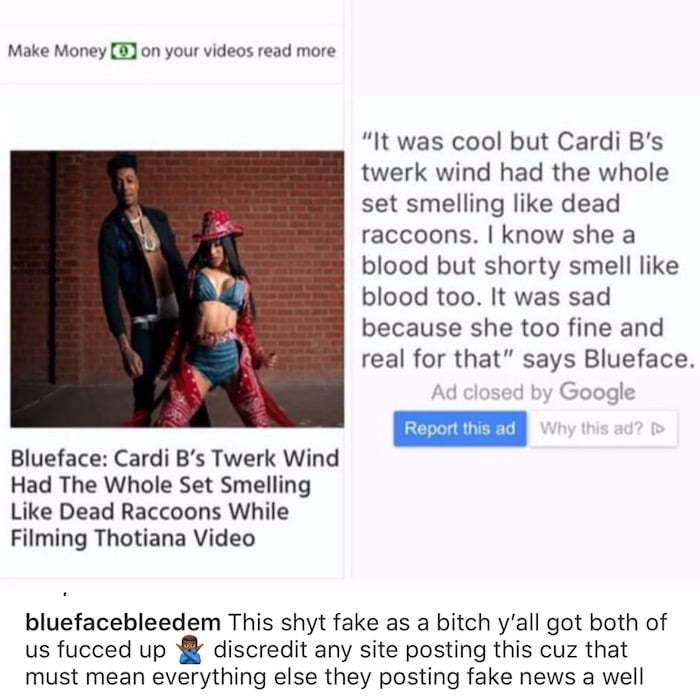 While taking the timeout to respond to critics, Blueface's "Thotiana" is currently sitting at number thirteen on the Billboard Hot 100 singles chart. The track has been steadily climbing the chart over the past few weeks as it grows in popularity.
With Cardi B jumping on the official remix, the track is only set to climb even further and could hit the top 10 by next week. Cardi is currently working on her sophomore album after her husband Offset dropped off his solo debut LP Father of 4 last week. The couple is now enjoying a tailwind behind them after reconciling their relationship following a split over the holidays.