50 Cent and Meek Mill are savages.
Tekashi69 girlfriend Jade recently got a 69 tattoo and changed her hairstyle to rainbow just like her man's who is now behind bars. According to 50 Cent and Meek Mill, Jade is just clout chasing because 6ix9ine is currently the hottest young rapper out. The tattoo can be seen as a symbol of her love for the Brooklyn rapper, or she could just be sending him a message that she is holding it down for him until his return, which could very well be never.
50 Cent posted a photo of her showcasing the tattoo which he captioned, "She was only with Danny for 5 days before the F.E.D.S came. Is it LOVE or the clout? run charity walk. LOL?"
Meek Mill was much more direct with his comment when he wrote, "Oh you clout chasing chasing? Y'all girls be crazy." Meek managed to get a response from Jade who clapped back saying, "This ain't no clout Chase this certified!"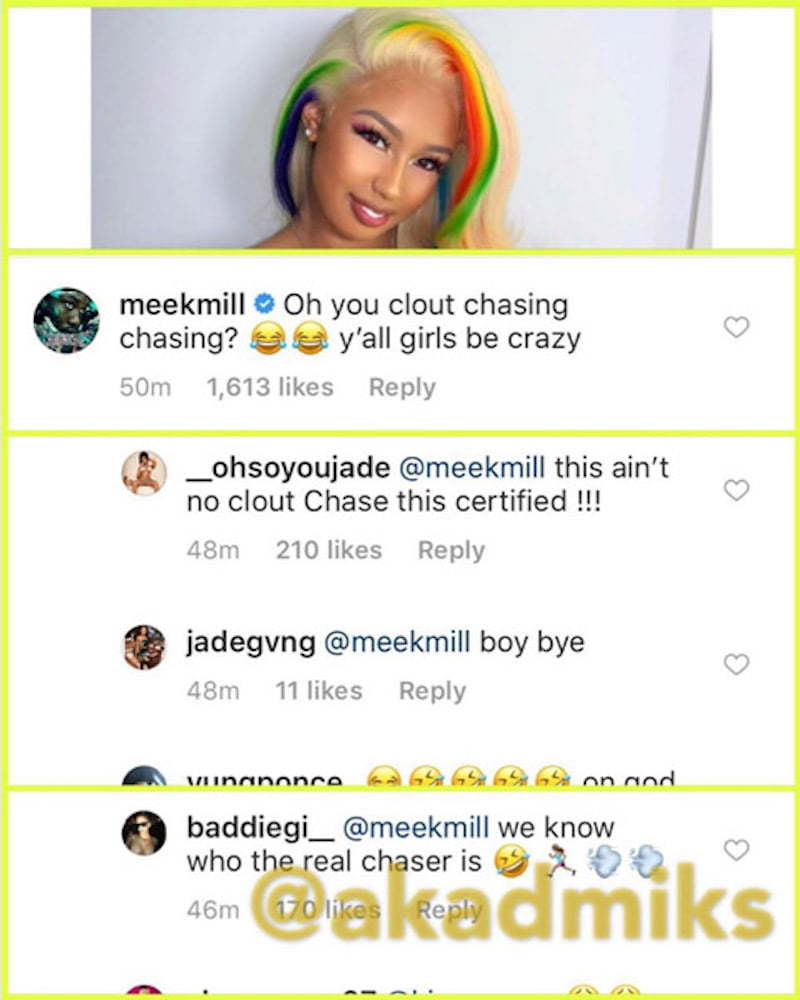 Meek Mill got a new album out and Tekashi 6ix9ine's new album Dummy Boy debut at number one on the Billboard chart this week. As for 50 Cent, he is still online trolling everyone. But seriously, Fifty is currently working on the new season of Power which we can't wait for while still making music here and there. He often refers to 69 as his son, so perhaps, in this case, he is just protecting his son.
Tekashi69 has been showing his new girlfriend a lot of love on the Gram while behind bars. He recently bought her a brand new Rolex watch for her birthday and send birthday wishes her way. The controversial rapper is fighting for his life as the feds move to send him to prison for life for racketeering. His trial date is set for September 4 next year, and in the meantime, his attorneys are preparing to mount his defense.
https://www.instagram.com/p/BrG53dtH6tm/