Tekashi69 has officially released his new album, Dummy Boy, despite the premature leak.
Tekashi 6ix9ine says that he is disappointed that his new album was leaked over the weekend, but he still thinks that his fans deserve to hear it, so he released it on Tuesday afternoon (November 27). The entire album, Dummy Boy, was leaked presumably by 69 or someone in his team since it first surfaced on his website for $6.99. The project was quickly yanked from the site but not before some fans grabbed a copy of it and then distributed it online.
The Brooklyn rapper is currently behind bars awaiting his fate after prosecutors laid out a strong case against him. Tekashi69 spoke to his friend DJ Akademiks from behind bars and told him why he decided to officially release the album despite his incarceration and it leaking online.
"Tekashi 6ix9ine album "DUMMY BOY" will be officially released in a few hours to all major outlets," Akademiks tweeted. "This is the decision of Tekashi himself who despite being disappointed about its leak & his current situation wants his fans to enjoy his music. He says he loves and misses his fans."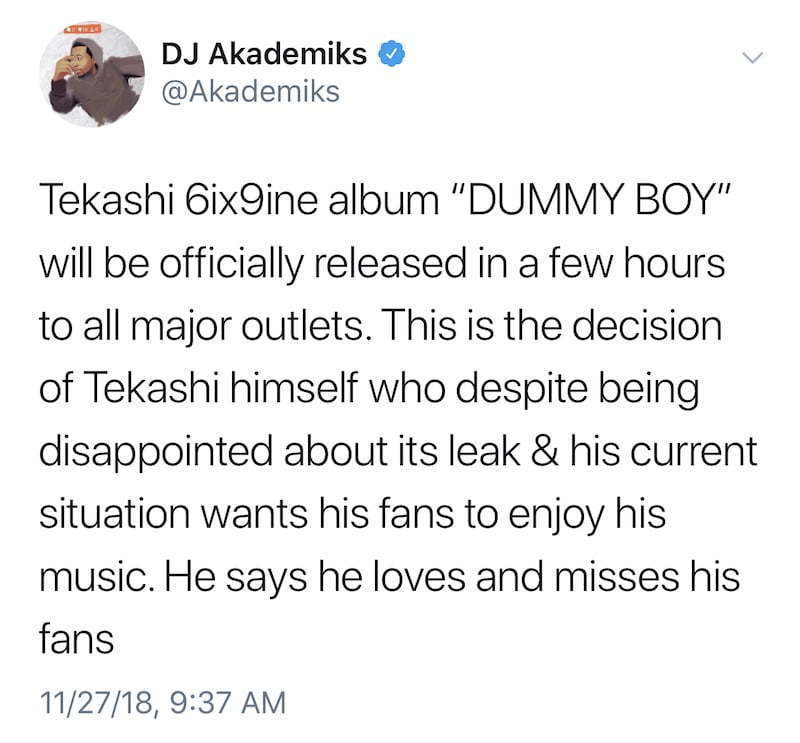 Dummy Boy was slated for released last week Friday but was delayed due to Tekashi69's arrest. The project was then leaked online on Saturday, sending the internet into a frenzy. With the looming release, it's a guarantee that the leak will affect sales since some fans have already listened to the project.
The project features guest appearances from Murda Beatz, Tory Lanez, Kanye West, Nicki Minaj, Bobby Shmurda, Gunna, Lil Baby, A Boogie Wit Da Hoodie, and more rappers who come together on a 13-track compilation. We will post the album after iTunes publishes it.
Dummy Boy tracklist.
1. "Stoopid" featuring Bobby Shmurda
2. "Fefe" featuring Nicki Minaj and Murda Beatz
3. "Tic Toc" featuring Lil Baby
4. "Kika" featuring Tory Lanez
5. "Mama" Nicki Minaj and Kanye West
6. "Waka" featuring A Boogie Wit Da Hoodie
7. "Bebe" featuring Anuel AA
8. "Mala" Anuel AA
9. "Feefa" featuring Kanye West
10. "Kanga" featuring Gunna
11. "Tati" featuring DJ Spin King
12. "Wondo"
13. "Dummy" featuring Trife Drew
Stream Tekashi69 new album Dummy Boy on SoundCloud below.