Vybz Kartel is trolling Alkaline after dropping his new diss track "Heartless Killaz."
In the gritty diss track, Alkaline take aim at Bounty Killer and Tommy Lee Sparta, two of his fiercest rivals in dancehall. Vybz Kartel is now suggesting that the Vendetta deejay stole one of his songs and turned it into a diss record. While he didn't name which song Alka stole, he did hint that the "Load Up" deejay is paying keen attention to his music.
"Yuh turn my song into a diss song dawg #DWL," Kartel wrote on Facebook shortly after the song came out. "Him himself a do him research #gaza how dem seh they're not a fan? #counteraction him seh.. Yuh owe me pon di loan 'again.'"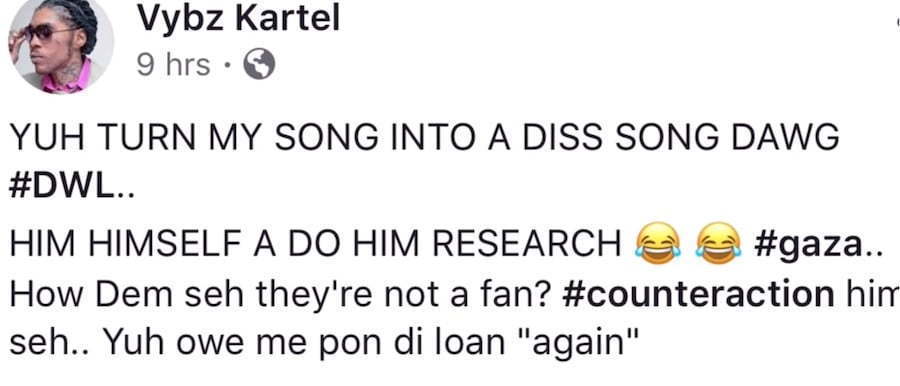 Last year, Vybz Kartel called out Alkaline for allegedly biting his style while saying that he will start charging him for dabbling up in his style. "Who borrow me style fi know say dem owe me pon the loan / We a mega star, so everything we do it haffi show," Kartel deejay on his song "Kremlin."
Some dancehall fans are calling out Vybz Kartel over his recent trolling of Mavado and now Alkaline. "So Kartel turn internet troll now because that's the only time me see him trending is when him trolling somebody smh Twitter fingers," one fan wrote while another added, "Drop a diss song then and stop take subliminal pon social media kmt Kartel thing drop off from him start trace like gal on Instagram."
Over the past two weeks, the incarcerated deejay released two new singles that have been doing well on the airwaves. However, the most talked about new song in dancehall this week is Alkaline's "Heartless Killaz" where he went HAM on Bounty Killer and Tommy Lee Sparta for proclaiming themselves as the Godfather of dancehall.