T.I. has reached his limit with Kanye West.
On Thursday, Kanye West manage to make everyone jaw drop when he made a statement inside the Oval Office during a visit at the White House to meet with President Donald Trump. T.I., who is close friends with Ye, has always defended him even after he said 400 years of slavery was a choice, and spoke about abolishing the 13th Amendment. TIP is now clearly angry after the G.O.O.D. Music chief sat down in the White House Oval Office and said his MAGA hat feels like a Superman cape.
"Now I've been extremely patient and made it a point to not jump to any premature conclusions about Ye'& his antics," T.I. wrote on Instagram. "Partially due to the lessons learned from the outcome of other similar situations dealing wit my brother Wayne (which I admittedly mishandled a bit in hindsight) But now this sh*t is next level, futuristic Sambo, Hopping Bob, Stephen off Django a*s sh*t Ye!!!! From what I can gather."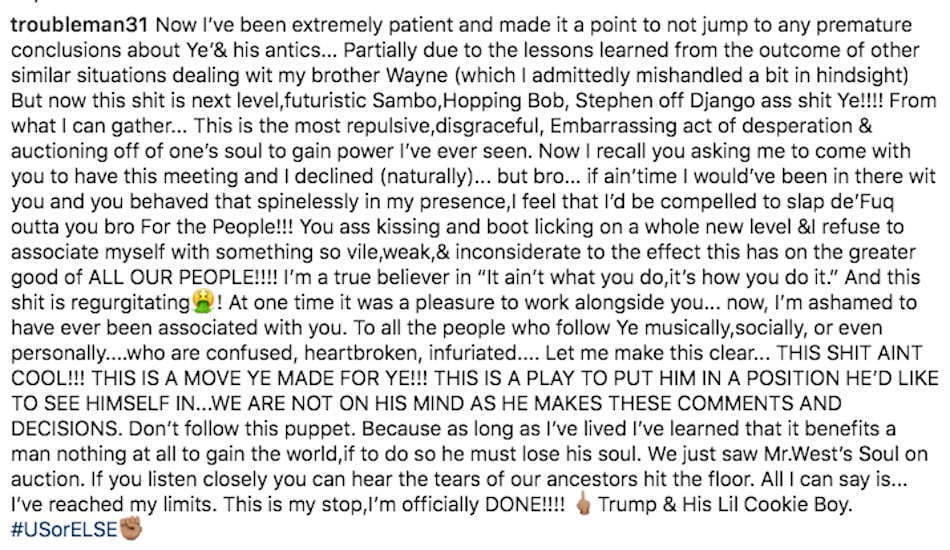 According to the Atlanta rapper, Kanye West is auctioning off his soul to Donald Trump to gain power. This is inline with what a lot of fans have been saying that Ye is only doing this now because he has an album coming out next month. "This is the most repulsive, disgraceful, Embarrassing act of desperation & auctioning off of one's soul to gain power I've ever seen," TIP continues.
The Grand Hustle rapper revealed that Kanye asked him to accompany him to the meeting at the White House with Trump, Jared Kushner and Ivanka Trump, and he turned him down. Now he is saying that if he had been there and Ye behave like this in his presence, he would've been compelled to slapped him for the culture.
"If ain'time I would've been in there wit you and you behaved that spinelessly in my presence, I feel that I'd be compelled to slap de'Fuq outta you bro For the People," T.I. added.