Spice and Shenseea are not beefing over Vybz Kartel despite some recent rumors.
When Spice didn't post a happy birthday message for her BFF Shenseea on her Instagram last weekend, everyone in dancehall started speculating that the two ladies had a falling out. When ShenYeng dropped her new collaboration with Vybz Kartel last weekend, it only added more fuel to the fire. Sources inside Romeich camp confirmed with Urban Islandz that the two leading ladies in dancehall are not beefing.
"Spice and Shenseea good a pure f***ry rumors some people a spread because they want every female artist to beef and fight down each other," sources said. We're told that while Spice didn't post a birthday message for Shenseea on the Gram for the world to see, she did call ShenYeng and personally wish her a happy birthday.
"Spice and Shenseea have a great relationship, and that won't change, we don't always have to be fighting and tearing down each other, this music space is big enough for all of us to support and uplift each other," sources added.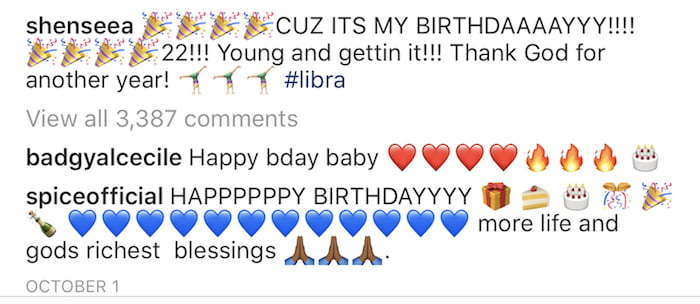 Spice and Ce'Cile did leave comments on one of Shenseea's posts on the Gram last week wishing her a happy birthday. "Happy birthday, more life and God's richest blessings," the Love and Hip Hop Atlanta star write.
Shenseea and Vybz Kartel's latest collaboration, "Secret (Refix)," is now out on iTunes and Spotify. Kartel also teased a new collaboration with Spice set for release sometime this month. So some folks on social media are saying that the two ladies are feuding over Vybz Kartel. You can now put those rumors to rest.
Spice and Shenseea also has an upcoming show together in Toronto on October 19th at the Rebel Toronto. This performance will be the second time that they are performing inside the same venue on the same night.