Vybz Kartel is making it clear like a sunny day that Bounty Killer is still his father.
Mavado is now on the outside, and I doubt he really cares. After all, he has bigger things on his hands right now like some legal troubles in Jamaica and his teenage son facing a murder charge. Nevertheless, this topic has been back in the spotlight in dancehall for the past two weeks given Bounty Killer's recent onslaught on the Gully Gad on the Gram.
On Wednesday, Killer posted an old clip of himself performing with Vybz Kartel and Sizzla Kalonji at the 2006 Champion In Action show. Back then everything was good between the former Alliance leader and his protege Vybz Kartel. Clearly, there is no love lost between the two despite a bitter falling out in the mid-2000s that gave rise to the Gully/Gaza feud. Bounty Killer insist that Mavado wasn't defending him or the Alliance, but wanted Kartel's fame, so he instigated the war.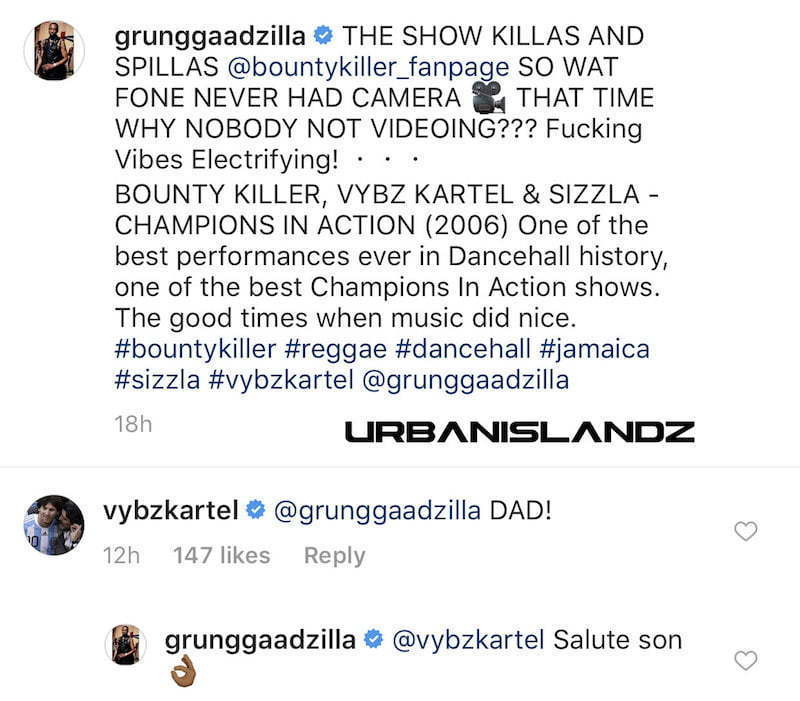 Back to the original story that includes one of the greatest performances in dancehall's history. Vybz Kartel left a comment on the post saying "DAD!." Bounty Killer responded to him saying, "Salute son."
It can't be any clearer that they these two dancehall legends still have mad respect for each other. Where does this leave Mavado? Some fans think that Bounty is showing love to Kartel who disrespected him a lot more than Mavado who defended him at one point. Regardless of which side of the divide you're on, this right here is a good look for dancehall.