Big Sean Twitter might have been hacked again.
Big Sean Twitter page fired off some tweeted this morning dissing everyone from his ex-girlfriend Ariana Grande to rainbow hair rapper Tekashi 6ix9ine. Even though he has not confirmed that his account was hacked, the tweets are so hilarious and so out of pocket that any sane person will know that Big Sean didn't send those out. The Detroit rapper probably has the easiest password ever used, or someone in his circle is playing games with his image.
"Ariana was f***ing Devito when we were together get the strap," BS tweeted before adding, "F*** you rainbow azz ni**a I run New York @6ix9ine." There are some other more explicit tweets which you can read below, but we had to censor them for our general audience.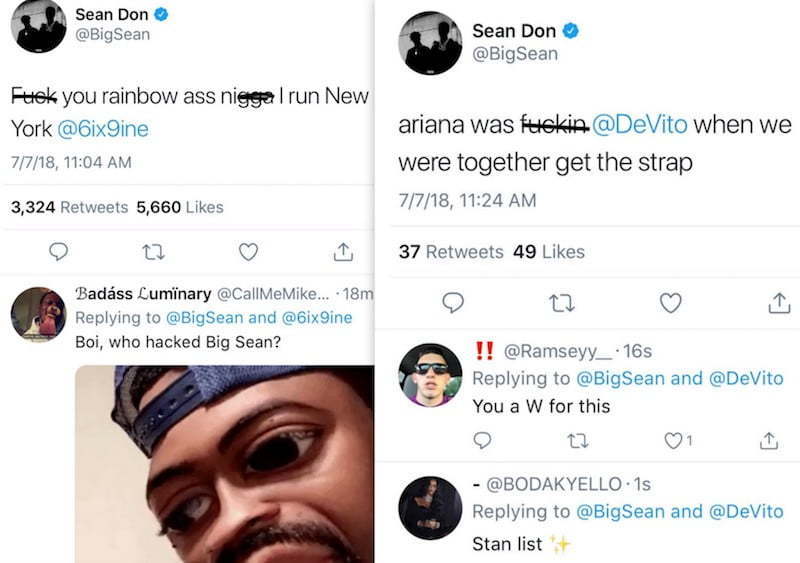 Big Sean fans on Twitter have been reacting to the hacker tweets in dismay with some folks even trolling the rapper for not securing his password.
Big Sean, your twitter has been hacked but we have someone on the job handling it…. pic.twitter.com/Gn0hW3TAtT

— bkdldicksucka (@bkdldicksucka) July 7, 2018
big sean password must be "boi"

— Justin Davis [Anti-Crack Account] (@OGJOHNNY5) July 7, 2018
Big Sean:Have you found the person hacking my twitter?
Young Thug:Yeah, I've located him. Already dispatched an agent to take him out. pic.twitter.com/NfXbKvwWKa

— Freddie (@IamFreddie_) July 7, 2018
Someone hacked Big Sean and I'm crying??? pic.twitter.com/uo1WirFV0D

— KATE? (@itzkatee__) July 7, 2018
https://twitter.com/eyebrowpapi_/status/1015661914234474496
https://twitter.com/contehs20/status/1015660879592001537
Big Sean looking at his twitter right now pic.twitter.com/gntDBoKLTt

— Peri Peri (@Deux_Cities) July 7, 2018
https://twitter.com/HipHop/status/1015678670592020480