Jhene Aiko acted quickly in shutting down fresh rumors claiming that she broke-up with Big Sean.
This is the second time in the last couple of months that Jhene Aiko and Big Sean are dealing with break-up rumors. Last night the R&B singer posted some cryptic messages on her Instagram live including a photo of herself getting a tattoo done. Shade Room posted the messages and the clip and has since deleted it after Aiko complained about it.
"What's the tea #JheneAiko," the gossip blog wrote. "Hope everything is good between her and #BigSean! They both no longer follow each other as well."
While it's true that Jhene Aiko and Big Sean no longer follow each other on social media, she is saying that has nothing to do with problems in their relationship and has everything to do with her feeling secure enough to give him space.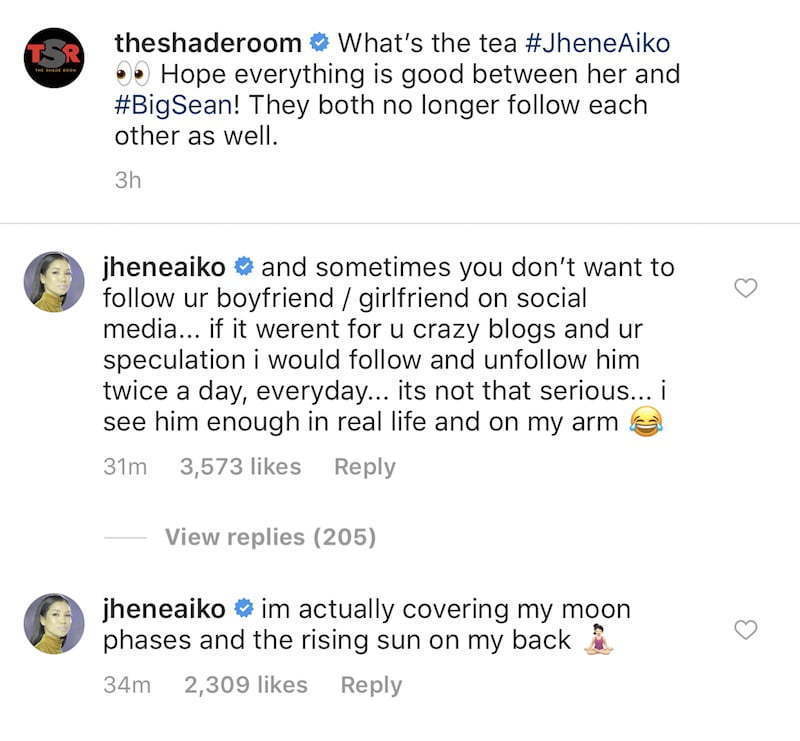 "She's clearly tattooing my back, I'm actually covering my moon phases and the rising sun on my back," Aiko wrote. "And Sometimes you don't want to follow ur boyfriend/girlfriend on social media. If it werent for u crazy blogs and ur speculation I would follow and unfollow him twice a day, everyday…it's not that serious….I see him enough in real life and on my arm."
In March, Jhene Aiko had to respond to Big Sean cheating rumors after a story popped up online claiming that he is cheating on her with Nicole Scherzinger. "Sorry, but nothing about you guy's fan fiction stories are true… I still love you tho," she tweeted.