Rihanna has friends in high places in dancehall.
The Bajan pop star celebrated her 30th birthday on Tuesday of this week and her family and friends threw a birthday party for her in New York City. Sources told Urban Islandz that the party was in the making for months and was mostly done in secret and no one spilled the details to Rihanna. Her BFF Melissa Forde even worked behind the scenes to get a handful of her favorite dancehall artists to record a dub for her which was played at the party for the first time.
Spice, Popcaan, Beenie Man, Beres Hammond, and Sizzla were all featured on the mashup with each artists taking turn to wish her a happy birthday. We're told that Rihanna cried when he heard it for the first time at her birthday bash because these are some of her all-time favorite artists.
"She shed some happy tears because as you guys know she grew up listening to these guys who are some of her all-time favorite artists," sources told us. "If you go to her house right now you will certainly hear some reggae music playing, it's a Caribbean thing so even though she is a pop star and live in the states, she is still every bit a Caribbean gal."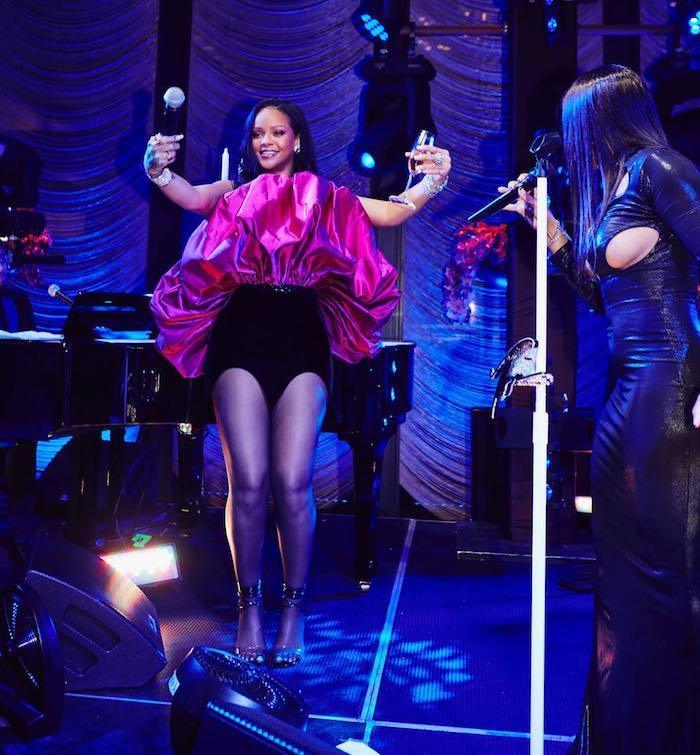 Melissa Forde also shout-out Beenie Man, Popcaan, Beres Hammond and Spice on Instagram. "@djspadenyc that bday dub plate last night was f**kinnn epic!! A man like Beenie Man, Beres Hammond, Popcaan and myyy bihhh Spice," she wrote in the caption of a video.
Toni Braxton was also in attendance at Rihanna's birthday party and even performed at the event. "And then this happened in real life singing with @tonibraxton I'm still on cloud 9 and nobody can't tell me sh*tttt for de rest of the year," Forde wrote.
"finally met my fav! thank you for making my night so special! I'll never forgive you for looking this good at my party tho," Rihanna wrote.