Kodak Black is about to cut off a lot of people from his circle.
Kodak Black is one step closer to freedom after prosecutors dropped three of the more serious charges against him. While working on getting his legal troubles behind him, the Pompano Beach rapper is also planning to clean house as expected. Earlier this month, he called out his fake friends and fake fans during a Twitter rant. "My Fake Friends Want me To Come Home So They Could Put Me Back In Jail .. And Even My Haters Screaming #FreeKodak," he wrote.
On Friday, he again offloads some stuff off his chest on Twitter and everyone inside his circle should be worried. "Never will I get to close to you, even if I mean the most to you. LOVE…D," he tweeted. "Protecting my innocence. Protecting my love. Never again will I let you close to me, even if you mean the most to me. Sometimes you have to cut off a finger to save your hand."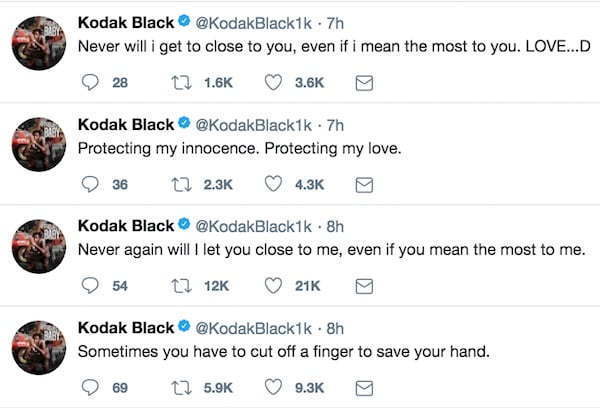 In an older tweet, Project Baby thanked his fans for sending him some kind words. "Even if I don't write back I receive and read every letter and don't ever think I don't appreciate it," he wrote.
Kodak Black, whose real name is Dieuson Octave, was taken into custody in January and charged with Neglect of a child without great bodily harm, two charges of possession of weapon or ammo by a felon, grand theft of a firearm, possession of marijuana over 20 grams, and two probation violation charges. On Thursday the gun charges and child endangerment charge were dismissed leaving him with just probation violation and weed possession charges.
Kodak legal troubles are still far from over since he is also awaiting trial for sexual misconduct in South Carolina. He was indicted on that charge in October last year.