Kodak Black says some fake friends inside his circle are behind his recent incarceration.
Project Baby is currently in jail and could face a lot of time behind bars if the recent charges brought against him stick. Kodak Black was arrested at his South Florida home in January and slapped with seven felony charges including grand theft of a firearm, two charges of possession of weapon or ammo by a felon, possession of marijuana, and child endangerment. Cops say a toddler was within feet of a loaded firearm and drugs.
Kodak was on Instagram live when cops barge in his home with a search warrant. It was someone who was watching his IG live feed at the time who called the cops after observing drugs and gun within close proximity to the child. Over the weekend, he fired off a series of tweets blaming fake friends and fans for his mounting legal troubles.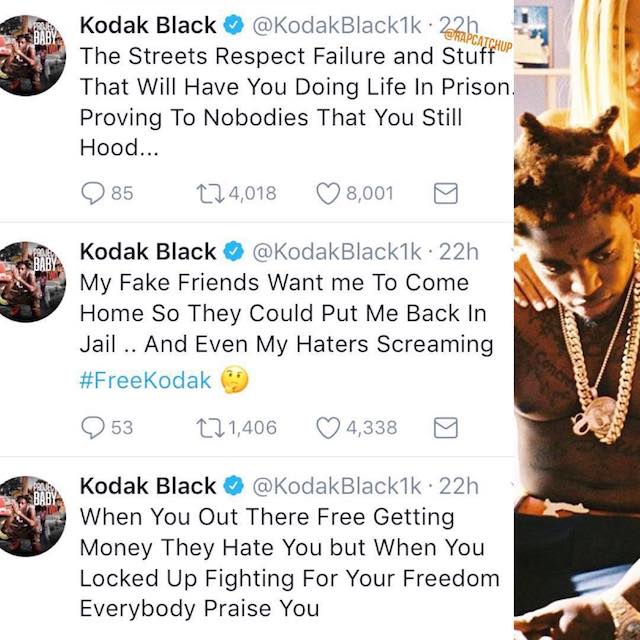 "When You Out There Free Getting Money They Hate You but When You Locked Up Fighting For Your Freedom Everybody Praise You," he wrote. "My Fake Friends Want me To Come Home So They Could Put Me Back In Jail .. And Even My Haters Screaming #FreeKodak."
"The Streets Respect Failure and Stuff That Will Have You Doing Life In Prison.. Proving To Nobodies That You Still Hood," he tweeted.
Some of his fans think it's ironic that these statements are coming from someone who glorifies the same life he is complaining about. This is also a clear sign that Kodak Black isn't learning from his past mistakes. Last year, he was lucky not to spend a year behind bars for probation violation and instead was placed on a year house arrest. While behind bars, he completed a life skills course and vowed to his mother that he will stay away from trouble.
Kodak Black's attorney, Bradford Cohen, says the gun found in his home does not belong to the rapper and wants a judge to have the weapon tested for prints. He was also denied bail but his next court date is set for February 23 where he will again applied for bail.