Rick Ross and Konshens are working on some new music.
The full details are not yet available, but the Maybach Music Group rapper and the dancehall deejay were spotted in the studio with Rvssian recently. Konshens is currently working on his new album due later this year. Sources told us that Rick Ross will be featured on the album and this new single will likely be the first off the project. "They working on something for Konshens new album but I can't divulge too much details," sources told us.
Rick Ross, Konshens, and Rvssian were spotted recently on set a music video shoot. Konshens posted a photo of the trio with the caption "Bully beef to bentley." The new album will be the follow-up to the Subkonshus deejay's 2012 debut project Mental Maintenance.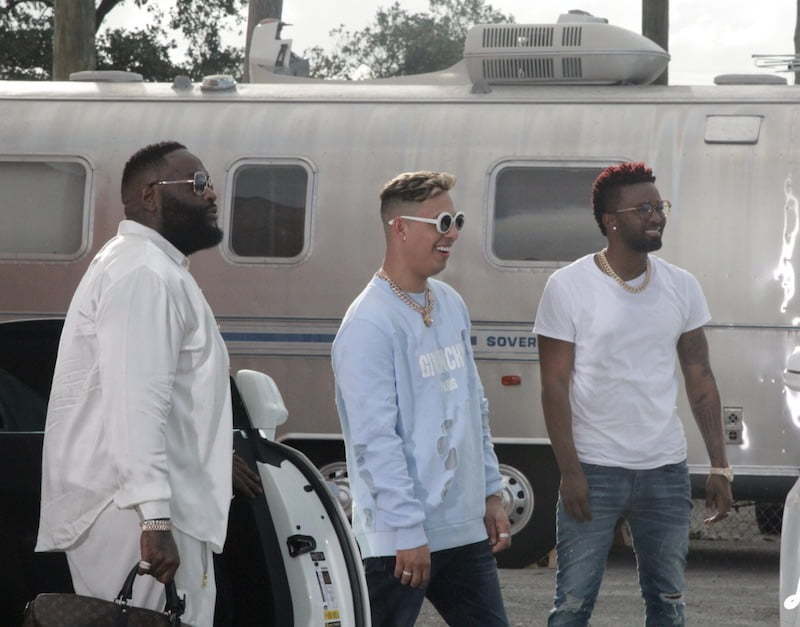 Konshens recently announced that he will stop making positive music because those music are just not getting enough support from fans. "So as of now ill only write songs for the mind and heart for other artistes to sing. Konshens will only sing sexually charged songs or party songs zeen," Konshens wrote on Instagram. "This always cut me so deep, not being miserable but it f**k up when me a try share brain food and it gets overlooked but as soon as I sing a gal song it moves. Then u soon hear the old fans complaining seh konshens nah give dem no song fi medz."
After making that statement, he received an overwhelming amount of support from his fans and peers in dancehall including Shenseea and Tarrus Riley who both urged him to continue to make positive music and don't allow himself to be boxed into a place where he only makes music for the ladies.
Konshens new album does not yet has a release date, but you can expect it sometime this year.