Meek Mill is getting ready to drop his new project "Wins and Losses" but it seems Nicki Minaj is on his mind.
The Philly spitter and his superstar ex-girlfriend have been in a war of words on social media over the past several months since their bitter break-up in December. Earlier this month, they traded jabs accusing each other of being fake among other explicit things. While they were dating, Meek Mill regularly shows off Nicki Minaj on his social media pages referring to her as wife material and a boss lady, but now he is singing a different tune.
Last night, Meek Mill posted a SnapChat that caught a lot of folks attention. "Ya fake a*s ain't no wife material," he wrote in the Snap before deleting it. While he didn't name Nicki Minaj in his post, everyone assumes that he is talking about her. Just last week he went on a rant on Instagram after JAY-Z drop his new album, telling his fans that she has fake everything including fake skin tone and fake mileage.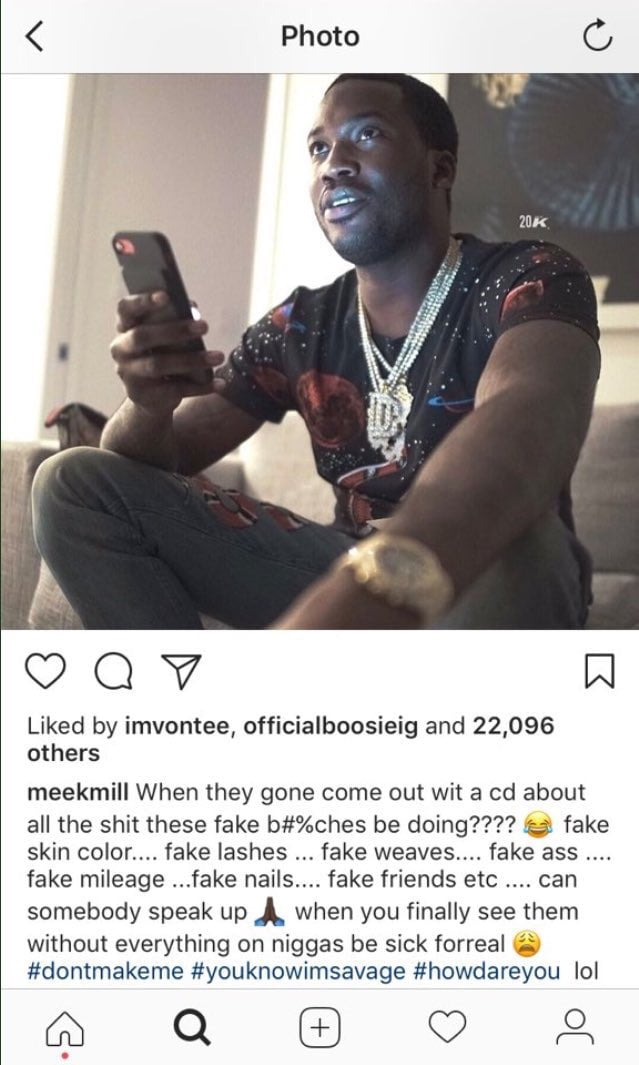 Meek is telling his people that Nicki is no wife material and that he regrets ever getting together with her. "Of all the women he dated, she probably ranked at the bottom, don't let these fake industry chicks fool you they ain't no wife material," sources told DHH. "He (Meek Mill) regret giving her the time of day and multiple people did warn his a*s about her but he wouldn't listen. That ni**a was blinded by that a*s but that's how we hood ni**as are we love a bad b*tch. But in this case, he should've passed on this one because she caused him a lot of problems in the industry and her fake as hell."
Meek Mill has been getting trolled by Nicki Minaj fans on social media who are calling him a bitter ex-boyfriend who should get over himself.