Lil Wayne has zero respect for Birdman and in fact, he is taking his disrespect for the Cash Money honcho to a whole new level.
Wayne has been publicly dissing Birdman for months on stage and on Saturday night he took things a step further when he told Birdman to s*ck his d**k. "Birdman you can s*ck my d**k!," Weezy told the crowd. The short clip went viral on social media and serves to only further fuel the beef between the former father and son duo. After watching the clip below you will conclude that there are zero respect and zero chance of a reconciliation.
A few days ago Birdman posted an old photo of himself and Lil Wayne from back in the Cash Money era of the early 2000s. Just last month, Nicki Minaj and Birdman were spotted partying together in at Liv nightclub in Miami. Seems Lil Wayne could care less if Nicki Minaj and Baby are still cool because he has no plans on working out their differences. Weezy is still suing Birdman and Cash Money Records for $51 million for unpaid dues for his last album among other money he claimed that the label owes him.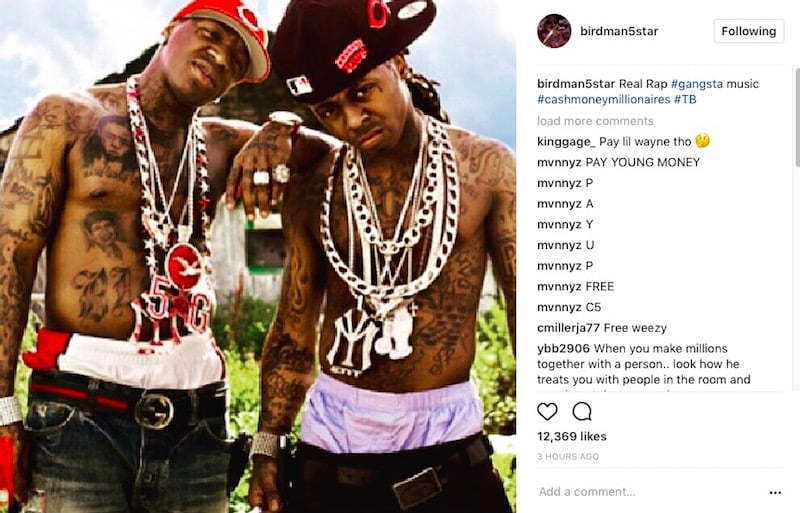 Both Birdman and Lil Wayne have made statements confirming that The Carter V album is coming sometime this year. But the further we get into 2017 is the more we start to feel like this project will never see the light of day. Last month, Martin Shkreli leaked two songs off the album online including a track that features Kendrick Lamar. Wayne and his teamed threatened to sue him if he leaks anymore of the tracks. Weezy also has a new album out with T-Pain titled T-Wayne and comprises of some left over tracks that the two artists recorded from as far back as 2009.