Chris Brown has another run-in with a female fan/stalker who pops up at his crib unannounced.
The R&B singer's manager posted a video clip of the female fan outside his house with her luggage and everything like she is coming home from a trip. There were some reports claiming that the female in question was invited by Chris Brown and was even wearing his sweater, but the singer confirmed on IG that he did not invite her. "Sh*t scary… and y'all got me f**ked up if you think she was invited," Brown wrote. "That's management voice in the background."
The "Loyal" singer also confirmed that the sweater that she was wearing is just another item from his Black Pyramid line that she likely purchased on her own. He also made it clear that he did not kick her out of his house, but rather not let her in because she was not invited. "Please don't ever come back because you're trespassing on this property okay," Chris Brown manager told the female who refused to leave. Sources say cops were called in to remove the trespassing female and the situation ended without any problems.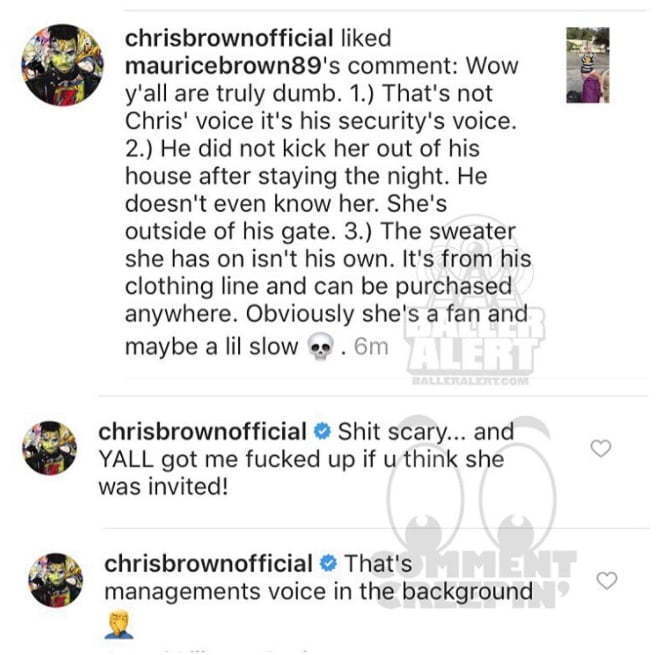 Last year, Chris Brown had another problem with a female name Baylee Curran, whom he kicked out his house for starting a fight. She later called cops and reported that Brown assaulted her. Cops responded and that resulted in a lengthy standoff at the singer's Tarzana home where he was later arrested. No charges were laid out against him after it was discovered that Curran made the whole story up. Chris Brown has had a number of legal troubles with females over the years and currently has one with his ex-girlfriend Karrueche Tran who is accusing him of threatening to kill her. So she is currently in court trying to get a permanent restraining order against him.