Mariah Carey and Remy Ma may be teaming up on a new Nicki Minaj diss track. The Love and Hip Hop New York star recently jumped on the remix to "I Don't" with YG.
Since dropping the remix last week, multiple sources have confirmed that Mariah and Remy, who both hates Nicki Minaj, are considering doing a diss track together. There is no confirmation from either of the two artists but we do know that Mariah and Nicki has a long-standing feud and recently the Young Money rapper got into it with Remy Ma.
Just when we think this beef is over, more shots are being fired from both sides and now the pop megastar wants to add her two cents. This should be interesting if the rumors turn out to be true. Mariah Carey has been known to get under Nicki Minaj skin from when the two hosted American Idol in 2013 where they regularly butt heads on and off the show.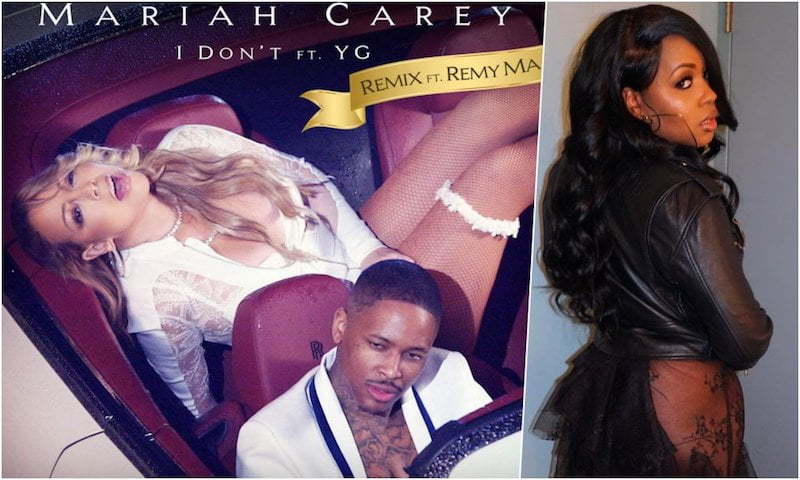 Nicki Minaj has also hinted that she has more diss tracks on the way, particularly a collaboration with 2 Chainz who told his fans on Instagram this week that the song will be a problem. She already took shots at Remy Ma on her collaborative singles "Swalla" with Jason Derulo and on "Make Love" featuring Gucci Mane. She again disses her rap rival on two of her new songs "No Frauds" with Lil Wayne and Drake and "Change It" which again features Weezy.
The Young Money femcee is currently working on her new album so there could be more diss records coming and sources inside her camp are telling us that if Mariah Carey wants to get in the way it's prerogative. "If she wants to get in the way it's her problem but we only spit fire over this side and we don't care who gets in the way," sources told Urban Islandz.