Meek Mill has confirmed that Rick Ross did warned him about his relationship with Nicki Minaj.
Rick Ross released his new album Rather You Than Me last night and the project is getting a lot of attention. One of the biggest takeaways from the album was a line on the opening single "Apple Of My Eye" where he took shots at Nicki Minaj while revealing that he had told Meek Mill not to trust her.
"I told Meek I wouldn't trust Nicki / Instead of beefing with your dog you just give him some distance," the Bawse raps. But it seems the Philly rapper knew about the line on the single from days before the album was officially released. Perhaps in one of their listening sessions or while bumping it in his car. But last weekend, Meek Mill posted a photo of himself and Rick Ross on his Instagram page with the caption "Rozay been told me don't trust you. 3.17.17 #ratheryouthanme."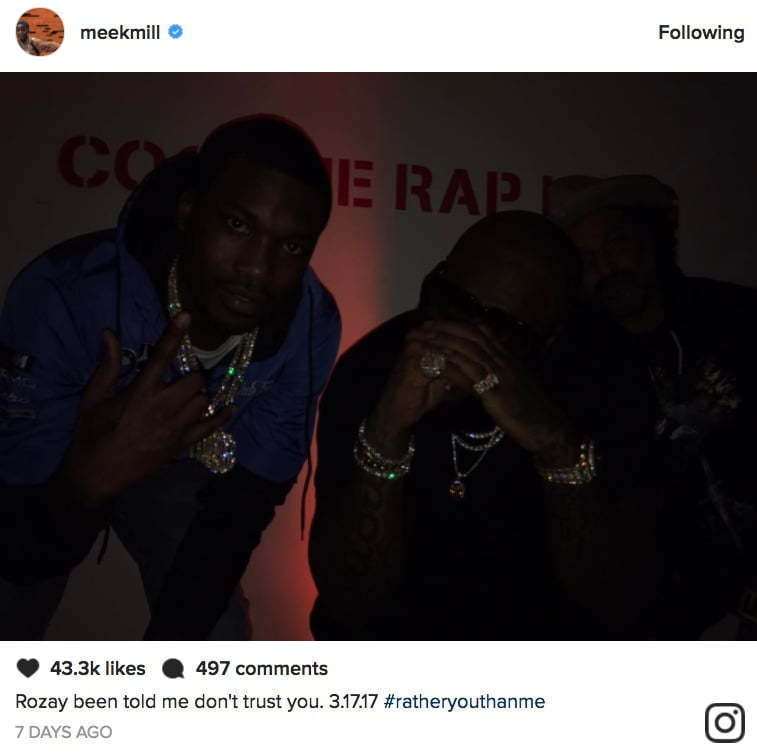 Rozay wasn't a big fan of the Meek Mill and Drake beef although he did dropped a few subliminal shots at Drizzy. But his biggest issue is with Birdman treatment of Lil Wayne and on the album he did let his true feelings be known. On the single "Idols Become Rivals" Rick Ross let loose on the Cash Money executive calling him out for wearing fake watches and driving cars that he didn't owned.