Nicki Minaj and Meek Mill are getting pettier since that unexpected Remy Ma diss track "ShETHER."
One of the most famous lines on the diss was when Remy raps about Nicki Minaj's ass drop and she withholding sex from Meek for three months because of that. A fan left a comment on a photo of Nicki and Future on Instagram yesterday using the famous line and Meek Mill liked that comment. "Ass dripped," the fan wrote with a crying emoji.
Meek liking the comment signaled that he cosigned it and could also mean that he did, in fact, told Remy Ma all the tea at last month's All-Star game. Nicki Minaj returned the favor also liking an anti-Meek Mill comment on IG. "Pretty sad when all these mfers have to come together to try to take down one bad b*tch," the fan wrote. "Let's see who's left standin with all that doe in the end tho." That comment was made on a photo of Trey Songz and Meek in the studio together.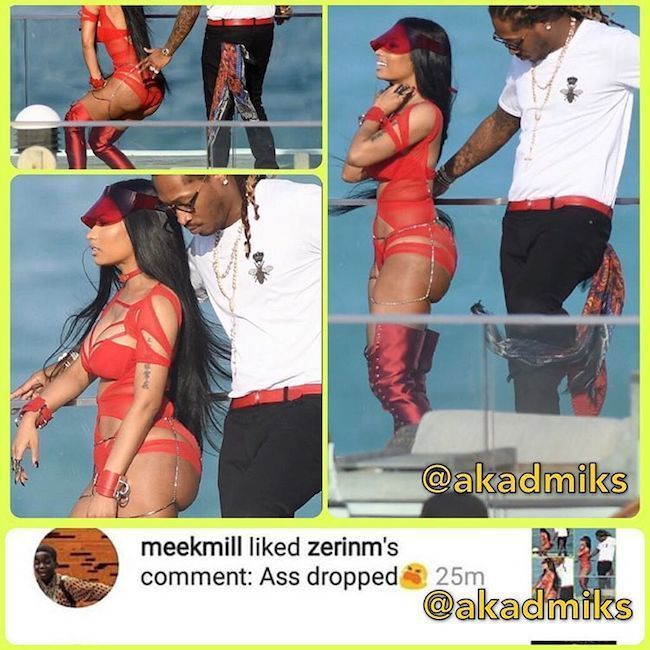 Nicki and Meek have been taking subliminal shots at each other on social media since their breakup in December, but since Remy Ma drop that diss track last weekend things have been heating up. At least now we are sure that there won't be any reunion between these two ever again and something tells us that the Philly rapper is not liking Future getting so close to his ex-girlfriend. Safaree is somewhere working out right now and watching what's unfolding and laughing.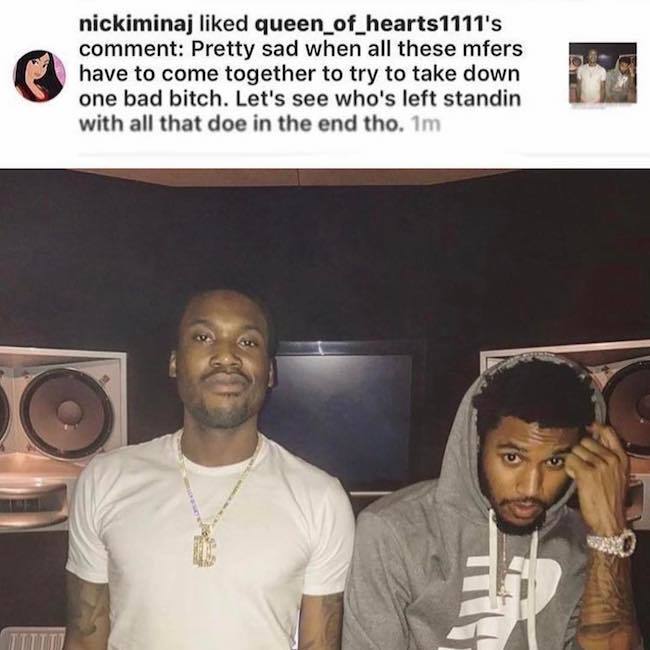 It's likely that this feud between Nicki Minaj and Meek Mill will play out in a diss record coming from both sides. In January, the MMG rapper previewed an alleged diss track on IG that is coming on his upcoming mixtape DC4.5. Nick is currently recording his upcoming album which could produce a few diss tracks.