Meek Mill is feeling The Game's wrath for what seems to be him siding with Remy Ma in the Nicki Minaj beef.
The Documentary rapper posted a photo of a post that Ebro made on Instagram and was liked by Meek Mill. The Philly rapper has also been commending on posts that are disrespectful towards Nicki Minaj and The Game is having non of that. In a lengthy post on Instagram, Game called the MMG rapper everything in the book that's bad.
"This the type of hoe sh*t I hate," Game quips. "This lil b*tch @meekmill aka Meesha salty cause his woman left em. Instead of being a REAL NIGGA & leaving the situation with ya head up standing tall, you in ya feelings so you get her house robbed & do f**k ni**a sh*t fronting for the followers she gave you… liking pictures & leaving comments on posts that disrespect the woman who gave you life, actually loved yo dusty as, bought you sh*t you couldn't ever afford on yo own & even stood by your side when Drizzy bodied you."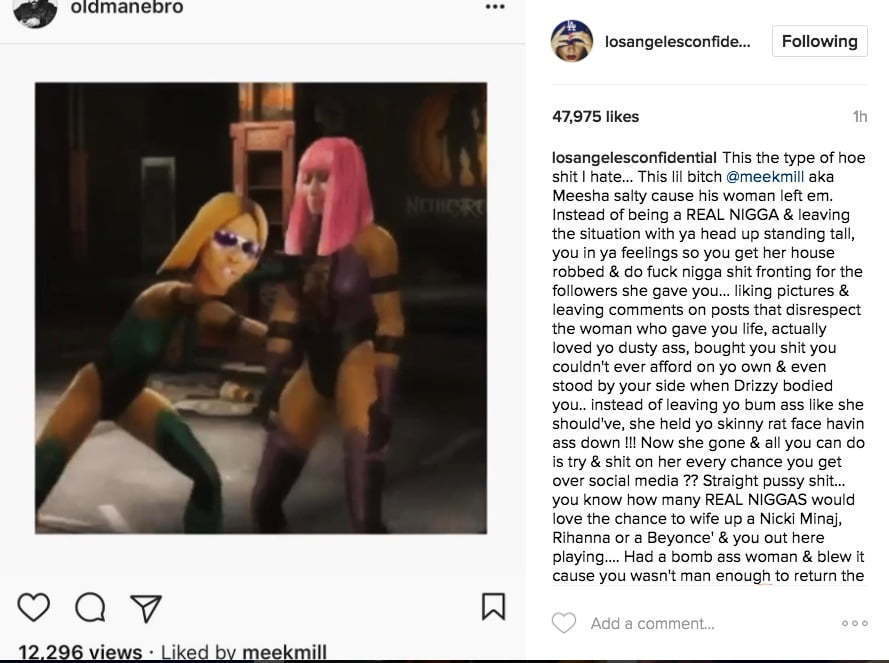 The Game has long maintained that Meek Mill was behind Nicki Minaj's recent home robbery where someone trashed her Los Angeles mansion. Fortunately, she was not home when thieves broke into her home. Game even called Meek out for being salty because of Nicki Minaj dumping him. She stood by his side even when Drake viciously took him down with "Back To Back." But now he can't do the same for her irregardless of their breakup.
"Instead of leaving yo bum ass like she should've, she held yo skinny rat face havin ass down !!! Now she gone & all you can do is try & sh*t on her every chance you get over social media ?? Straight pu**y sh*t… you know how many REAL NI**AS would love the chance to wife up a Nicki Minaj, Rihanna or a Beyonce," The Game continues.
Hip Hop fans seems to be agreeing with Game on a lot of the things that he is saying about Meek Mill. Things like Nicki Minaj gave his career new life and this is how he repays her. The big question is, did Meek really told Remy Ma all the things she rapped about on "ShETHER."