Trey Songz has stepped forward to address accusations that he smashed Nicki Minaj, per Remy Ma claim on her diss track "ShETHER."
Seems Trigga was pressured into posting this video denying that he ever had sex with the Young Money rapper. On her gritty diss track, Remy Ma claimed that Nicki hooked up with the R&B singer but in more explicit terms. "Only time you touch a trigga's when you f**k Trey Songz / Coke head, you cheated on your man with Ebro / I might leak the footage of you sniffin' them ski slopes," the Love and Hip Hop star raps (full lyrics on Urban Islandz.com).
In a video clip posted on his Instagram, Trey Songz told his fans "just going to give you my two cents I got myself together. I got respect for Nicki, me and Nicki done work together, I got respect for Remy, but no matter what you heard I never had sex with Nicki am staying out the way.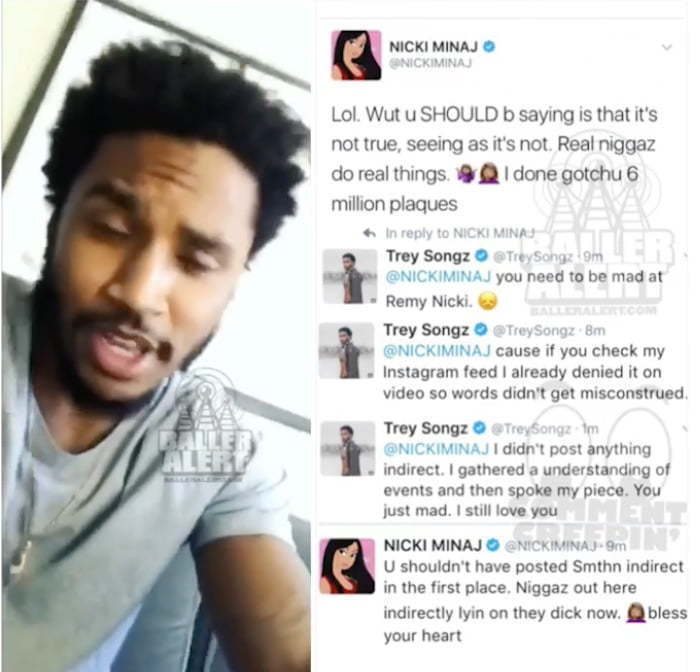 Before he released the video, Trey Songz tweeted about the accusations. "Even when you stay out of the way they will have ya name all in some sh*t," he wrote. "Wake up to new comedy everyday. Focus." Nicki Minaj was not satisfied with that response and pushed him to say something more direct. "Lol. Wut u should be saying is that it's not true, seeing as it's not. Real ni**az do real things. I done gotchu 6 million plaques," she said.
But Trey Songz had already posted this video explaining his side of the story and completely denying that he ever had sexual contact with Nicki Minaj. So Twitter is now going in on the Young Money rapper on why he chooses to beef with Trigga when Remy Ma is the one viciously going after her. Perhaps its time for Nicki to head back into the studio before Remy drops a second diss record.
Even when you stay out of the way they will have ya name all in some shit. Wake up to new comedy everyday. Focus.

— Trey Songz (@TreySongz) February 25, 2017
Listen the internet aka mass general public is so stupid. I learn that more and more everyday hahaaaaa I'm in Charlotte tonight fwm

— Trey Songz (@TreySongz) February 25, 2017