Meek Mill is only back on Instagram for a few days now and already he is being accused of taking shots at Nicki Minaj.
The Dreamchaser emcee deleted his IG account last month for around two weeks but earlier this week he was back on social media and he hasn't been quiet about it. In fact he has been posting so much that its hard to keep up, and some fans are already noticing a trend. Let's not forget the real reason he deleted his account in the first place was because of him taking shots at Nicki Minaj and her fans taking him to task about it.
Yesterday he posted a meme that's pretty funny but still got some of Nicki's fans attention. "When she tell you go get the room, now she not answering," the meme reads with an alien figure sitting on a bed while on the phone. Meek Milly also posted another image that's fast become the next viral meme. He captioned that photo "#mood."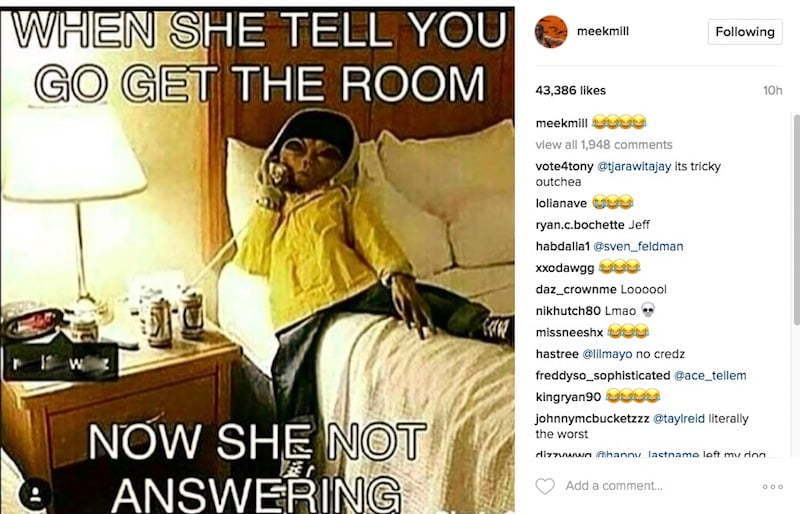 Meek Mill will be performing at his concert at the Wells Fargo Center in Philadelphia tonight. He will be bringing out some special guests and we are pretty sure Nicki Minaj will not be among his guest artists. Her fans are still trolling him with the Ls in the comments.
"We not ya kind and we cool wit dat," Meek wrote on one of his posts.
https://www.instagram.com/p/BQR6Y3XgA0C/
https://www.instagram.com/p/BQUlCqYA5HJ/