DJ Quik says that he did not get any credit for his hard work on YG single "My Ni**a."
The track was was released in 2013 with a censored version titled "My Hitta" which also made it to the Compton rapper's album "My Krazy Life." Seems Quik was not credited as a producer behind the single which made him feel stiffed.
The producer went on a rant on Twitter in a series of now deleted tweeted. This is what he said.
"@stampedemgmt, Y'all had me engineer and record My Ni**a for @YG and did not give me credit. My Lawyer has You His sights. You've f***ed up," he wrote.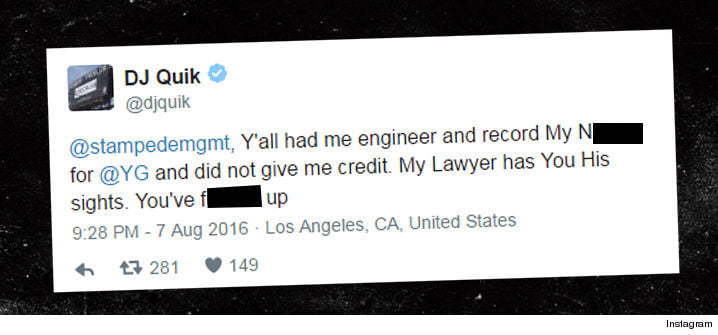 "@YG @Jeezy shoot me my engineering credits for stemming and recording vocals on your platinum song My Hitta or whatever u call it," DJ Quik added. "@Jeezy @stampedemgmt @YG and shoot my Platinum plaque to: Dj Quik. I'll wait…@DefJamRecords there's some fugazi on the west with my plaque for "My Hitta." My wall is missing an Award. #RIAA."
The track "My Hitta" which features Jeezy and Rich Homie Quan has DJ Mustard as the producer. But DJ Quik says he provided engineering work and even vocals on the single. The track has since been certified double platinum.
YG had a simple response on Twitter. "F*** the police @djquik," he wrote.