Lil Wayne and Birdman have officially buried their beef. The duo appeared together on stage for the first time in over a year at LIV nightclub in Miami on Sunday night.
In a show of solidarity, Birdman told the crowd that Weezy is still his son and it's always "YMCMB for life."
"This my mother****in' son and I'ma die for him, I'ma live for him, and I'll mother****in' kill for him, ya heard me?" the Cash Money head said. "That ain't gon' never change. It's YMCMB for life."
Baby didn't stop there and went on to blast his critics. Although he didn't mentioned any names, the internet linked his remarks to Rick Ross who had a few not so kind words to say about him on his "Color Money" single off his new Black Market album.
"But you b**ch asses that be sayin' my name, b**ch, I'ma pull up," he continued. "And I ain't gon' pull up talking, believe that. Rich Gang for life."
Lil Wayne didn't commented on Birdman statement on stage but the two went on to performed their 2006 collaborative single "Stuntin' Like My Daddy."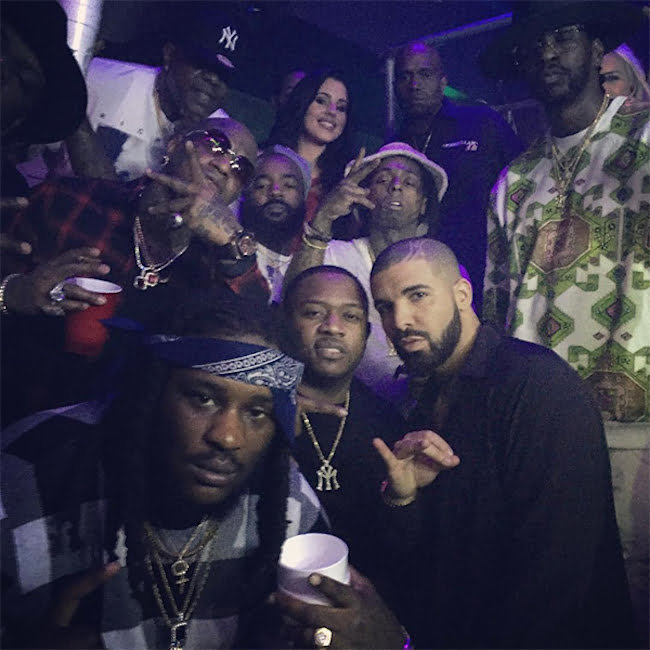 Lil Wayne protege Drake also shared a photo of the two rappers on stage signalling where he stands in the longstanding feud.
Wayne and Birdman first reunited on New Years Eve at Drake's party in Miami. Since then the two have been back on speaking terms.
Last year Weezy filed a $51 million lawsuit against Cash Money and Birdman. That lawsuit is still in the court despite their reunion.