Chris Brown is making it clear that he could care less if Drake and his ex-girlfriend Karrueche Tran is hooking up.
Over the weekend the Toronto rapper and the actress were spotted partying together at Mr. Nice Guy in West Hollywood. Sources say they were talking to each other and laughing.
Related: Chris Brown Confirmed "Sorry" Was Written For Karrueche Not Rihanna
"Karrueche arrived just moments before drake did," sources told us. "It's unclear if the meet up was planned before hand or was just mere coincidence that they turned up at the same spot around the same time. But they were very friendly with each other and Drizzy even bought drink for everyone even folks that he didn't came there with."
Drake famously took a few jabs at Karrueche Tran and Chris Brown in his song "Live From The Gutter" with Future off their new mixtape What A Time To Be Alive.
"This for my n***as on that bullsh** and that nonsense / This for my dogs who go Karrueche with the chopsticks / And we gon miss you," Drake raps.
Brown eventually called out his nemesis via IG saying that he doesn't have time for all the BS.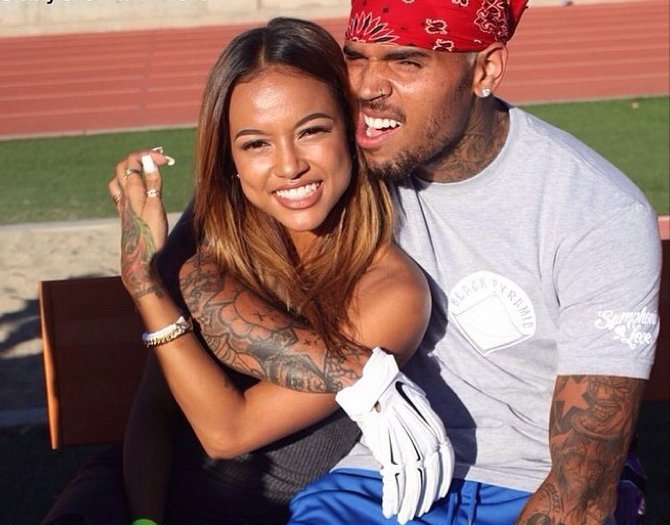 Seems both Karrueche Tran and Drake has put all of that behind them now. The only question remaining is are they hooking up? Brown is telling his people that he care "Zero" referring to the title of his new hit song.
"Breezy don't have time to pay attention to all of that BS right now," sources close to the "Liquor" singer told Urban Islandz. "The homie about to put out a new dope album and have a beautiful daughter that he is focusing on. Life is good and he is over Karrueche and could give two cents who she want to give it up to."
Chris Brown famously blast Karrueche Tran for allegedly hooking up with Drake while he was serving time in jail for probation violation.
"I was locked up for damn near 4 months and only got 1 visit from you while u was hosting parties and taking secret trips to Toronto, going on dates with Drake," Brown rant.