Nicki Minaj and her boyfriend Meek Mill are taking over GQ magazine for this fall. The mag released some details of their spread including their surprised interviews and photos.
A video clip also surfaced showing Minaj and Meek kissing and showing a lot of affection. GQ is refering to Omeeka as the new 2015 Bonnie and Clyde.
Nicki Minaj ex-boyfriend Safaree Samuels will want to not read this part when she describes in detail kissing Meek.
"Actually I love kissing him," she said. "My favorite thing about Meek is kissing him, which is weird. Just now I was like 'damn, you've been asking can I kiss you a lot now,' and it's contagious because I used to be always asking him to kiss him when we first started talking. I love kissing him. I love the way his lips feel."
The Young Money rapper says that she thinks that they have a normal relationship for the most but at the end of the day they are like any other couple in the hood.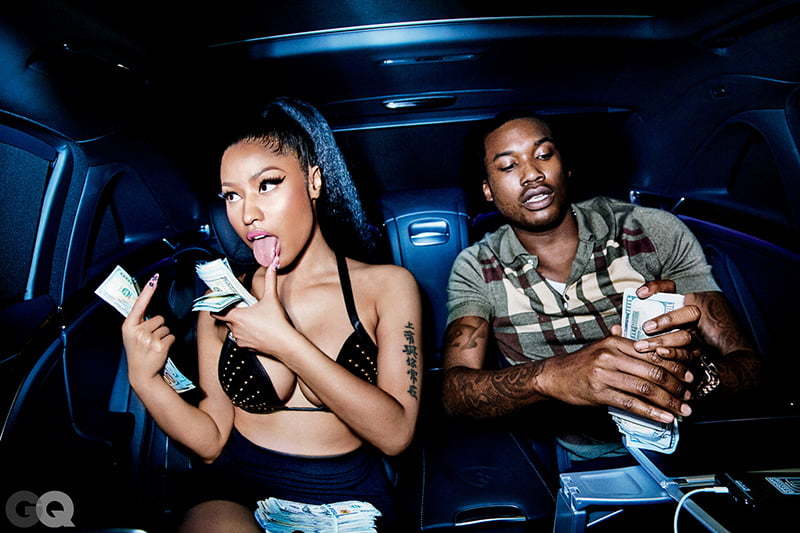 "I definitely think we have a normal relationship off-camera," she said. "We're like any other couple in the hood. We're growing as a couple and as people and as human beings, but we still have our careers. And I think probably the only thing that makes it un-normal is that we're both successful artists, and that's probably not normal."
Nicki also said that they are close friends with Beyonce and Jay Z and also Alicia Keys and Swizz Beats who she say are very down to earth.
Nicki Minaj also opened up about how she and Meek Mill started dating while he was in jail and her boyfriend moved out.
"We shot a video and I think probably around that time I was like, 'oh, he's cool.' In terms of taking him seriously and going to another level with him: when he went to jail I was left in a house by myself and it was just a tough time for me and it happened to be a tough time for him as well."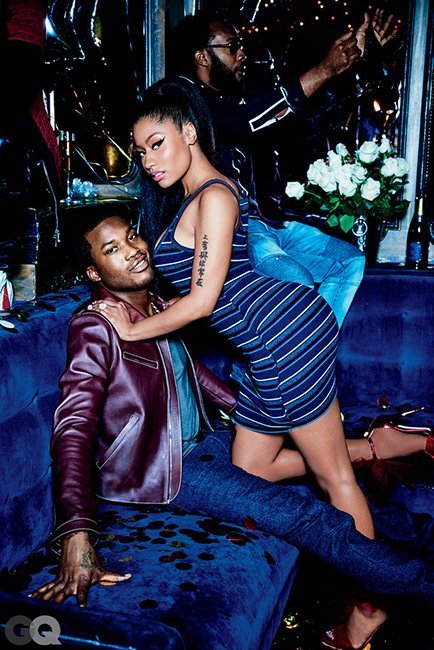 "Yeah, it was weird and so at that time I was available. So I reached out to him letting him know…It's so funny that the day he went to jail, he was on my mind the day before, Minaj added."
"He was on my mind the day before, because I saw him going off on Twitter, and I was like, 'oh man, he needs somebody to, like, make him feel good right now.' So when I heard he went to jail I was really disappointed. I reached out to his people like, 'yo, let him know I'm praying for him to come home.' And they told him, and he asked them to call me for him. And it was like, I remember sitting on my balcony at my house and just being on the phone with him until it started getting dark outside. And I was just like, 'yo, I'm in trouble.' I just knew that first day. It was that long conversation. I was like uh-oh."
Nicki Minaj and Meek Mill also spoke about their biggest misconception of their relationship and handling the haters and detractors.
Get the full interview on gq.com