Will Nivea be joining the cast of Love and Hip Hop Atlanta?
There have been rumors since last year claiming that Lil Wayne's baby mother Nivea will be joining the cast of LHHATL. But so far that has remained mere speculations.
But now multiple sources are confirming that the "Complicated" singer is in negotiations with producers of the hit reality show.
Sources told MediaTakeOut that she has already agreed to go on the show and is now going over the paperwork before inking her signature.
Nivea is the ex-wife of singer/producer The-Dream, who she has two kids with. She was also engaged to Lil Wayne and has a son with the YMCMB rapper.
What does Nivea bring to Love and Hip Hop Atlanta?
For one Nivea and has been having some major drama with Lil Wayne and his new chick Christina Milian.
Here is the deal. Christina Milian was also married to Nivea's ex-husband The-Dream and has a child with him. Milian is now reportedly pregnant with Lil Wayne's baby.
This summer Nivea went on a rant on Instagram calling out Christina Milian over being knocked up for Lil Wayne saying it's bad for the kids involved.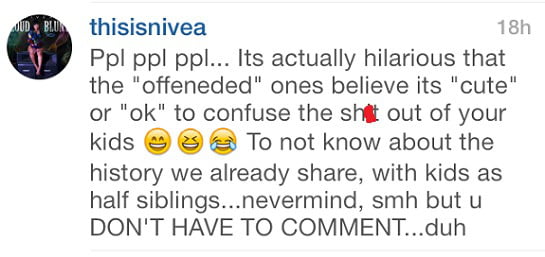 "Ppl ppl ppl… It's actually hilarious that the "offended" ones believe its "cute" or "ok" to confuse the Sh*t out of your kids. To not know about the history we already share, with kids as half siblings… nevermind, smh but u don't have to comment… duh."
So clearly she would be bringing some tea to Love and Hip Hip Atlanta.
Perhaps that is the reason why they fired Benzino and his fiance Althea.