Christina Milian is reportedly pregnant with Lil Wayne's baby and at least one person is not happy about it.
R&B singer Nivea is making it clear that she does not condone Lil Wayne and Christina Milian relationship.
SEE ALSO: Christina Milian Denies Dating Lil Wayne, Says We Are Friends
Nivea and Lil Wayne were engaged back in 2002 before they split. They also have a son together. But that is just the beginning of the saga.
Nivea and The-Dream got married in 2004 and have three kids together before divorcing in 2007. Christina Milian got married to The-Dream after his split with Nivea. Christian mothered a daughter for the singer/songwriter.
Now Christina Milian is dating Lil Wayne and is rumored to be pregnant. According to Nivea, that would bring a lot of confusion into the kids lives.
This is what Nivea posted on Instagram before deleting it:
"Ppl ppl ppl… It's actually hilarious that the "offended" ones believe its "cute" or "ok" to confuse the Sh*t out of your kids. To not know about the history we already share, with kids as half siblings… nevermind, smh but u don't have to comment… duh."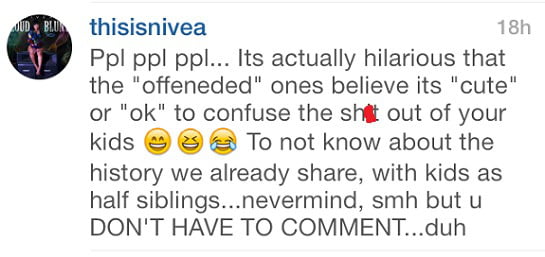 The-Dream also addressed the issue during a recent interview with VLAD TV.
"I think that's what everybody was thinking when the news broke," The-Dream said. Everybody was thinking of that but supposedly Christina. She wasn't thinking of that at all. I have no idea how she could not be thinking of that."