Wiz Khalifa and Amber Rose still have mad love for each other and could be heading for reconciliation.
The couple announced their split earlier this month and Rose filed for divorce after just over a year of marriage.
SEE ALSO: Wiz Khalifa Steps Out With New Girlfriend In Hollywood
The couple started having problems following allegations of infidelity on both sides.
Yesterday Wiz Khalifa wish Amber Rose a happy birthday on Twitter for the world to see and Amber's response says a lot about how she feels.
"Happy birthday Amb," Wiz wrote on Twitter.
Happy birthday Amb <3 @DaRealAmberRose

— Cameron (@wizkhalifa) October 21, 2014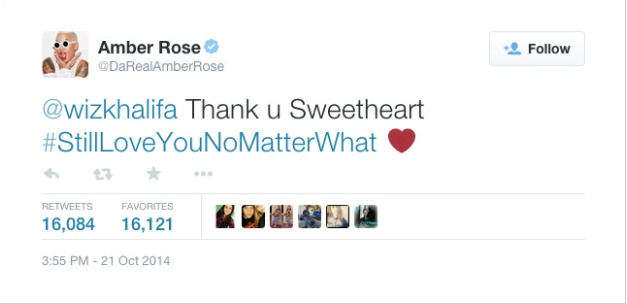 Anyone who has ever been through a real breakup will know that when you truly love someone you don't get over them overnight.
Sources connected with the couple told Urban Islandz that they are on speaking terms now and before they weren't.
"Amber and Wiz love each other deeply, they was no communications between after their split but now at least they are talking," the source told us.
Amber Rose later deleted her tweet.