Did Rihanna returned a chain Chris Brown gave to her last year?
There is a big brouhaha about Chris Brown wearing a chain that he gave to Rihanna last year as a gift. The X singer, who is currently doing some promotional run for his new album, has been spotted rocking the same chain since last weekend.
SEE ALSO: Rihanna, Chris Brown Still Not Talking To Each Other
This only fuel new rumors claiming that Chris Brown and Rihanna could be heading for reconciliation.
Urban Islandz ever so reliable source close to the Bajan pop beauty confirmed that it is in fact the same chain and Rihanna did returned it to Breezy months ago.
"Their last breakup was the last straw because RiRi threw out everything that Chris gave to her and returned a lot of stuff including that chain," the source said.
"She even burned a lot of stuff including an apology letter that he wrote to her. As to why he is now wearing the chain I can't say but he has a new album out now, just saying," the source added.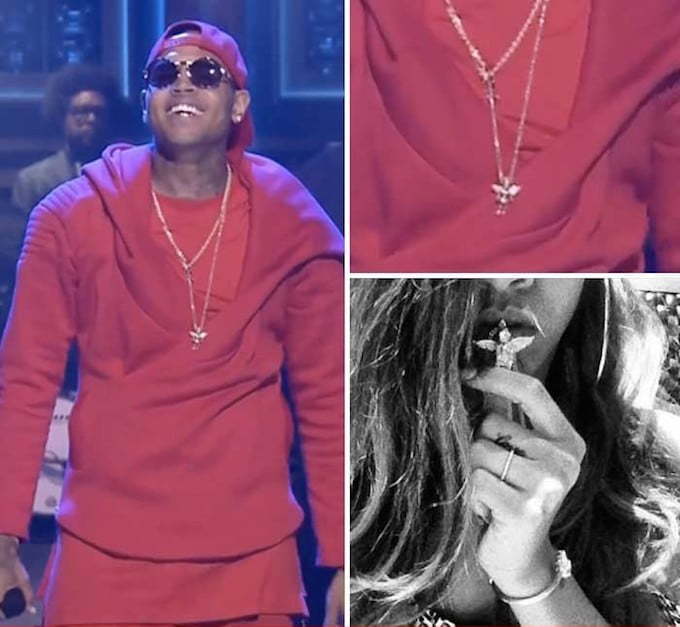 Basically our sources is saying that Rihanna returned the chain to Chris Brown some time now and he is now wearing it possibly as a publicity stunt for his new album.
Chris Brown was performing live on Jimmy Fallon last week Friday and he rocked the same chain.
The "New Flames" singer was also spotted out in Los Angeles with his on-again off-again girlfriend Karrueche Tran yesterday wearing the same chain.