Beyonce and Jay Z splitting up and the whole world is tuning in. Or is all this talk just rumors without substance?
There are new reports suggesting that Beyonce and Jay Z split is not a if but a when and how.
Beyonce and Jay Z have been rocked with rumors of divorce, infidelity and a toxic marriage over the last few months.
SEE ALSO: Beyonce Jay Z Says No Divorce, Gets Drunk In Love On The Beach [PHOTO]
While the power couple has remained tight lipped on the rumors, they are using social media and their on stage PDA to fight off some of the chatters.
The question fans and folks in the media are asking is if Beyonce will be a single woman in the near future. Is there any truth to the breakup/divorce rumors?
Sources say Beyonce and Jay Z split is imminent.
Today, the source says, it's not whether they'll split, but how they'll split — adding that the only time Jay and Beyoncé are really together is on stage. They're allegedly traveling with marriage counselors, but Jay — as he's always done — spends much of his time on the phone, tending to business. "His phone's constantly ringing," says the source, "Jay trying to make deal after deal." Calls to representatives for the couple by The Post were not returned.
Beyonce and Jay Z living separate lives:
The question now is whether to stay married while essentially living separate lives — becoming the Bill and Hillary of hip-hop — or publicly divorce. Ultimately, it will be about the brand. "There's face-saving involved — they don't want to be looked at like other celebrities out there," says the source. "They are business people first, entertainers second. Husband and wife comes somewhere down the line."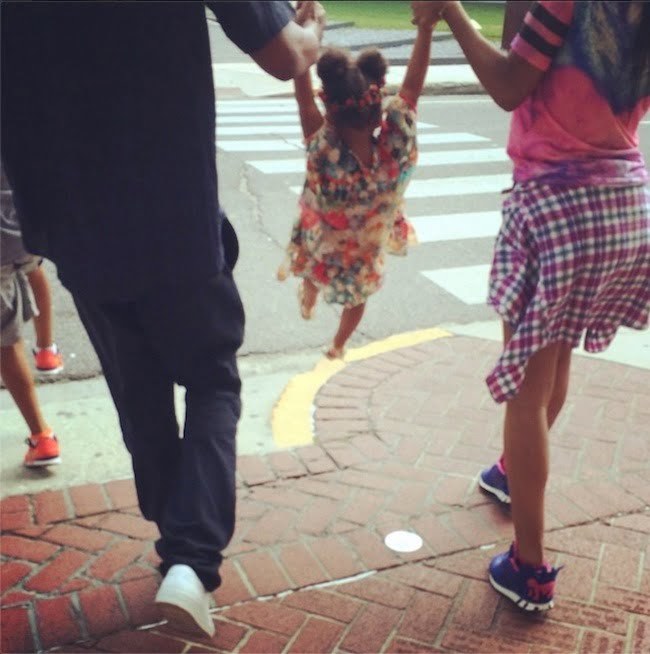 Beyonce confess Jay Z cheating in "Resentment" lyrics:
These are some of the original lyrics:

"Been ridin' with you for six years"

"I gotta look at her in her eyes and see she's had half of me."

"Like I couldn't do it for you like your mistress could"

She tweaked the six and changed it to twelve and some other words in the lyrics. This was the modified version she performed.

"Been ridin' with you for twelve years"

"I gotta look at her in her eyes and see she's had half of me. She ain't even half of me. That b**ch will never be."

"Like I couldn't do it for you like that wack b**ch could."
Beyonce sister Solange fed up with Jay Z alleged affair with Rihanna:
Whether or not Jay was actually planning to meet Rihanna on May 5, the constant affair rumors are allegedly tearing Beyonce, 32, and Jay Z apart. The only time the powerful couple is together is when they're on stage, a new report claims.

"Solange was like, 'Enough is enough — you must be [screwing] Rihanna,'" a source told Page Six about that crazy night at the Boom Boom Room. "To many people who know them, they know it's not out of the realm of possibility."
Beyonce reportedly shopping for new apartment without Jay Z:
Beyoncé is looking for her very own bachelorette pad amid rumors that her marriage to Jay Z has hit the rocks.

The "Single Ladies" songstress was spotted checking out a $21.5 million penthouse in Chelsea, not far from the building Katie Holmes fled to after her divorce from Tom Cruise, a source confirmed to the Daily News.
Beyonce stop wearing her ring and removed her ring tattoo:
Amidst the drama, Beyonce has secretly removed her ring tattoo and has not been seen with her wedding ring on in the last few months.
In more pressing Bey/ Jay news, Beyonce appears to have removed her wedding tattoo pic.twitter.com/8Z4y1wMWok http://t.co/EBaNzUajaI

— HuffPostEnt (@HuffPostEnt) May 15, 2014
Ring finger riddle: http://t.co/LiwSBOoGJK pic.twitter.com/zGs3JZZRdl

— OK! Magazine (@OK_Magazine) May 15, 2014
While all this drama unfold in the media, Beyonce has been posting photos of herself, Blue Ivy, and Jay Z being the perfect family.
Last weekend the two secretly escape the drama to a secluded part of Portland, Jamaica.
Do you think Beyonce will be a single woman by the end of the year?