Beyonce may have had enough of Jay Z's cheating because according to reports she is inches away from serving him divorce papers.
The power couple has been rocked with mounting rumors of divorce and infidelity over the last few months.
SEE ALSO: Beyonce, Jay Z Seeking Marriage Counseling While On The Run
Folks have even linked the infamous elevator fight between Jay Z and Beyonce's sister Solange to some alleged cheating on the part of the rap mogul.
According to In Touch magazine, Beyonce came close to pulling the plug due to a recent encounter between Jay Z and another woman.
"She's heard all the rumors about Jay fooling around, and she can't take it anymore. The romance is over," the magazine claims. "He was toasting champagne with the crew and friends and some women who were brought back stage. Beyonce seethed when she saw a busty blonde nuzzling into Jay's chest and him whispering something into her ear."

"She and Jay have always had huge blow-ups where he leaves furious," the magazine reported. "They fight about everything, but cheating and jealousy have always ben the big issues. Their relationship is volatile."
Most of the rumors of volatility in their marriage stemmed from a performance by Beyonce last month on their joint On The Run Tour where she tweaked some of the lyrics on her decade old single "Resentment."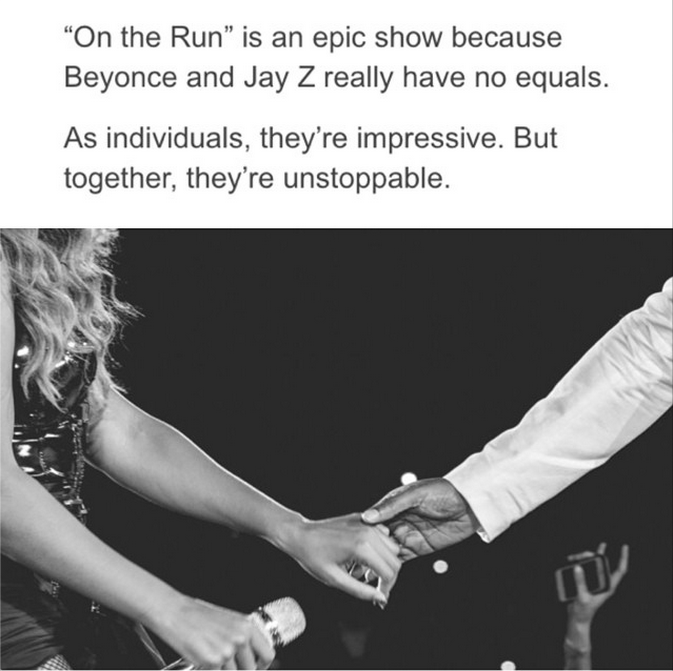 Beyonce tried to quell some of the rumors by posting a photo on Instagram of herself and Jay Z on stage holding hands with the caption.
"'On the Run' is an epic show because beyonce and Jay Z really have no equals."
"As individuals, they're impressive. But together, they're unstoppable."
Beyonce and Jay Z are also reportedly seeking marriage counseling while touring to save their marriage.