Vybz Kartel and Shawn Storm, the two most recognized names in the murder trial, has issued a statement on their lengthy sentences.
The two dancehall stars released handwritten notes thanking their fans and families but maintain their innocence.
SEE ALSO: Vybz Kartel Sentenced To 35 Years To Life In Prison
Vybz Kartel, born Adidja Palmer, was sentenced to 35 years to life imprisonment for the August 16, 2011 murder of Clive "Lizard" Williams.
Shawn Storm, real name Shawn Campbell, was sentenced to life also but will be eligible for parole in 25 years.
The other two men Kahira Jones and Andre St John were given 25 and 30 years respectively before being eligible for parole.
In his handwritten note, Vybz Kartel says he did not kill Clive Williams.
"I would first like to again reiterate that I never killed Clive Williams nor did I order his killing," the statement reads. "To my family I want to say thank you for being there for me. Equally to my fans whose unremitting support matters to me! Bless, Kartel."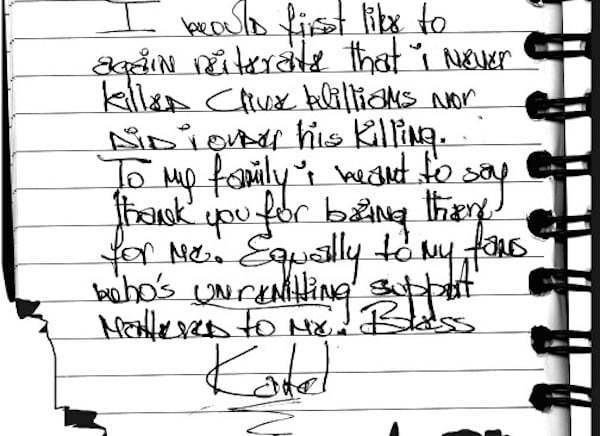 Shawn Storm also maintained his innocence in Clive Williams murder.
He also thank his fans and family for their support and assured them that he is doing good.
"To the fans and fams I am an innocent man and I am just saying I am good and in great health and spirit," Shawn Storm said. "So from me to the fans and ma fams and my mother, daughter and family I am confident that in the long run I will be vindicated."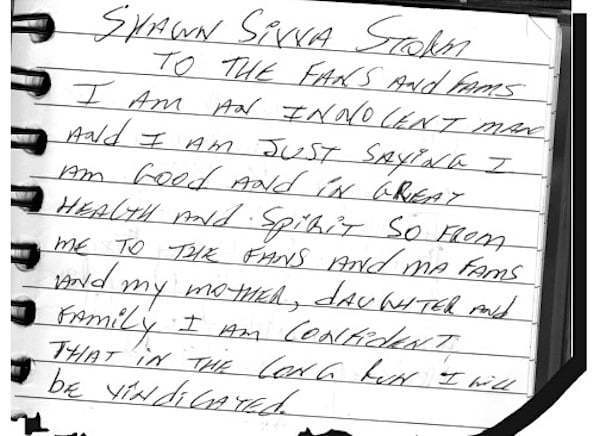 The four men are currently serving their life sentence at the Tower Street Adult Correctional Centre.
Vybz Kartel lawyers are already moving to file an appeal on behalf of the dancehall star.