Vybz Kartel, born Adidja Palmer, was moments ago sentenced to 35 years to life in a Jamaican prison and hard labour.
The "Dancehall Hero" deejay, affectionately called Worl'Boss by his fans, shed tears as Home Circuit court judge Justice Lennox Campbell handed down the life sentence. Kartel's protege Shawn "Storm" Campbell, and his close friends André St John, and Kahira Jones were also handed lengthy sentences. The handcuffed men were escorted out of court by heavily armed police officers where they will head straight to a high security prison.
"Addi (Vybz Kartel) remains strong and is maintaining his innocence so now we are looking forward to continue to fight for his freedom," a rep for the dancehall star told Urban Islandz.com. "We are not giving up because the system imprisoned an innocent man. We will fight this down to the core and expose the Jamaica injustice system for what it really is."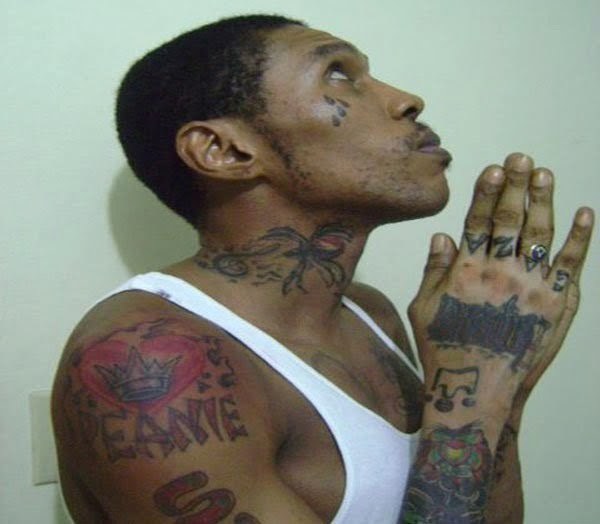 On March 13, 2014, a 10:1 jury convicted the four men in the Home Circuit court in Downtown Kingston for the murder of Clive "Lizard" Williams. The guilty verdict sent shock waves throughout the dancehall community worldwide with some fans bemoaned an unfair trial, marred by police corruption and evidence tampering. Vybz Kartel will be eligible for parole in 35 years.
Sentencing details.
Adidja Palmer aka Vybz Kartel – 35 years in Prison (Life sentence).
Shawn Campbell aka Shawn Storm – 25 years in prison
Andre St John – 30 years in prison
Kahira Jones – 25 years in prison
What's next for Vybz Kartel… APPEAL.
Vybz Kartel attorneys has already begin to plot their road to appeal in the Jamaican high court. Appeal cases in the Jamaican court system could take up to five years given the massive backlog, a police source told Urban Islandz.