Vybz Kartel will make his final court appearance this Thursday in the Home Circuit court for his highly anticipated sentencing hearing.
The dancehall star, who was convicted by a 10:1 jury on March 13, is facing a life sentence for the murder of Clive "Lizard" Williams.
SEE ALSO: Reneto Adams Calls For 50 Year Sentence For Vybz Kartel
Vybz Kartel's legion of fans are also planning a major protest on Thursday outside the Supreme Court building in Downtown Kingston.
One of Vybz Kartel's former protege who requested anonymity, told us that she and scores of the deejay's fans will be taking to the streets on Thursday to call for a retrial.
"The entire case was a sham, because how can you convict a man with fabricated evidence?" she said. "He was found guilty even before he go on trial."
Police sources told Urban Islandz that the force will be taking extra precautions to prevent what happened on the day the verdict was read.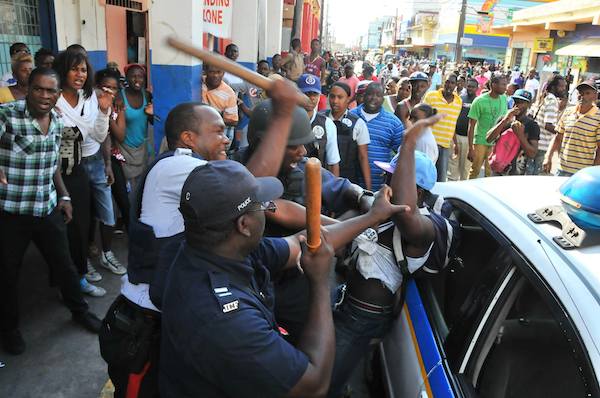 On the final day of the trial, hundreds of Vybz Kartel's fans clash with members of the security force out the Supreme Court building. Several of the deejay's fans were arrested and one man was beaten by cops.
Kartel, whose real name is Adidja Palmer, Shawn "Storm" Campbell, André St John, and Kahira Jones were all found guilty of the murder of Clive "Lizard" Williams.
Shane Williams, who was also a co-accused, was acquitted of the murder.
The four convicted men are facing 25 years to life imprisonment for the murder.
Clive "Lizard" Williams' body has yet to be found.