Tessanne Chin is the winner of The Voice 2013.
After 12 weeks performing on the Emmy-winning talent show, Tessanne Chin emerged The Voice 2013.
The Jamaican songstress won after a sizzling performance of Whitney Houston's classic hit "I Have Nothing" on Monday's final live performance show.
DETAILS: Tessanne Chin Win Is A Game Changer For The Voice
Tessanne Chin topped the iTunes chart twice and rocked up record numbers of votes to take home the grand prize of a recording contract and $100,000 cash.
My mamma looking beautiful as ever on TV made me cry mamma 🙂 #Voice finale #TeamAdam #TeamTessanne… http://t.co/G4zIjgNiDh

— Tessanne Chin (@Tessanne) December 18, 2013
A rep for Tessanne Chin told Urban Islandz that she was very nervous going into tonight's final episode.
"Naturally anyone would be nervous in a situation like and this was probably the most nervous I've ever seen her [Tessanne Chin]," the rep told us. "But most of us were very confident she would win and Adam was right there to help her get her mind ready for the inevitable."
WATCH: Tessanne Chin Performed "I Have Nothing" The Voice Final Dec 16 [VIDEO]
Tessanne Chin has had an amazing journey on The Voice season five, carrying an entire nation with her a long the journey. She managed to get all four judges to turn around during her blind audition on September 24. That memorable night she performed Pink's "Try," a song fit for the occasion.
During a recent interview, Tessanne Chin says before the blind audition she was doing backup vocals for reggae legend Jimmy Cliff in Jamaica.
"Before the blind audition I was singing background vocals for Mr. Jimmy Cliff in Jamaica," Tessanne Chin said. "When all four judges turned around I was proud because I felt like this is my chance to be a solo artist. Working with Adam I definitely feel closer to being the artists that I want to be."
The entire Jamaica and those in the diaspora are in celebratory mood tonight. One fan of Chin told Urban Islandz on Facebook that he and his crew planned to celebrate the win for the rest of the year.
"They should just declare it a merry Tessanne Chin Christmas because we ago party till next year," Kevin said.
Tessanne Chin is currently crying happy tears after after her remarkable victory on The Voice 2013. The entertainment media is already clamoring to get an interview.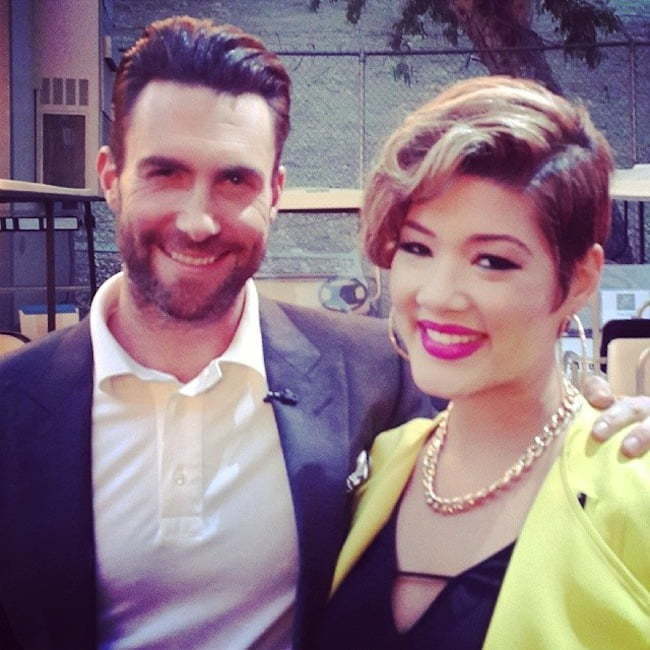 Last night a large crowd of people gathered in Half Way Tree in Kingston, Jamaica's capital watching The Voice on a giant screen.
Tessanne Chin also gets to take home a Kia Sorento SUV back to Jamaica with her.
What's next for Tessanne Chin?
She currently has a recording contract so her fans can look out for some new singles from her in the coming months and possibly an album.
She sure will be spending some quality time with her husband Michael Anthony Cuffe Jr and her sister Tami Chynn, who is also a popular artist in Jamaica.
The Voice 2013 third place: Will Champlin
The Voice 2013 second place: Jacquie Lee
Tessanne Chin is The Voice 2013.
Congratulations to Tessanne Chin.