Tessanne Chin lived up to the hype on The Voice 2013 final live performance on Monday night with a mammoth performance of Whitney Houston's classic "I Have Nothing."
Houston is undoubtedly a giant shoe to fill in the singing world, but Tessanne Chin made it look too easy.
WATCH: Tessanne Chin Talks Her Journey To The Voice Final [VIDEO]
"I dont have thoughts right now," Adam Levine said after a long pause. "Everybody know this is sacred ground. Everybody stay away from Whitney Houston because it is so hard… It is unlike anything I've ever heard… I have no doubt in my mind that you are the winner of this show."
During rehearsals Tessanne Chin did not get phased when Adam told her she should sing Whitney Houston's "I Have Nothing."
"Of course I can't sing like Whitney Houston, but I consider this as a tribute to her," Tessanne Chin said.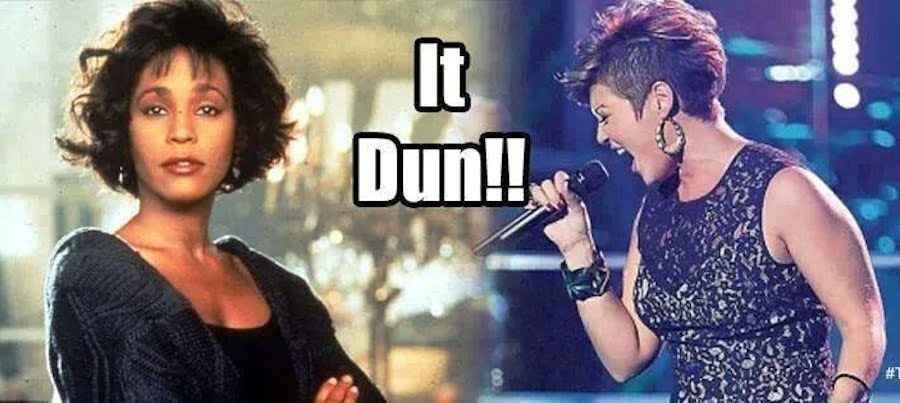 Tessanne Chin roared into The Voice finals last week with a flawless performance of "Bridge Over Troubled Water." She went on to top the iTunes chart later that night with that performance.
The Jamaican songstress is the hot favourite to win The Voice 2013 grand prize of a recording contract and a cash prize of $100,000.
Tessanne Chin Performed "Try" The Voice Final Dec 16 [VIDEO]
#TeamTessanne is currently the top trending topic on Twitter.
Thank you so much for all the love and support on this journey everyone!!! Please vote 🙂 and buy… http://t.co/ze43y0vazK

— Tessanne Chin (@Tessanne) December 17, 2013
Tessanne Chin husband Michael Cuffe Jr. and her parents were in the audience sheering her on.
She is going into tomorrow night's (December 17) final episode the hot favourite to be crowned the champion.
Tessanne Chin chin has had an inspiring journey on The Voice season five. She entered the competition as the first Jamaican contestant in September and made it all the way to the final through. Now her eyes are on the grand prize.
Tessanne Chin was already an established performer in Jamaica, who also did back up vocals for reggae legend Jimmy Cliff. She was encouraged by dancehall icon Shaggy, who mentored her, to auditioned for The Voice.
Watch Tessanne Chin performed Whitney Houston "I Have Nothing" On The Voice final on Monday, December 16 below.