Chris Brown went on another Twitter rant and this time he took aim at celebrity blogger Perez Hilton and talk show host Wendy Williams.
Hilton appeared on The Wendy Williams show las Friday where he chastised the troubled singer calling him brainless.
PHOTO: Karrueche Tran Gave Chris Brown A Send Off Kiss To Rehab
"Chris Brown has a disease. His disease is he has half a brain," Perez Hilton told Wendy Williams. "I really think he has half of brain. It's working properly."
That statement didn't sit too well with Chris Brown, who is in rehab for anger management.
The "Fine China" singer response on Twitter was swift, but he later deleted them probably from the advice of Karrueche Tran.
"Can't take advice from 2 buff chicks when one can't stand to look at herself without plastic surgery and the other is forever on his period," Chris Brown tweeted.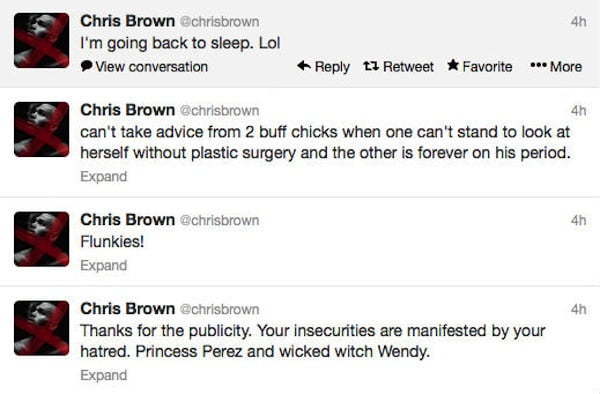 Watch the video below.