Kanye West does everything extravagant including proposing to his baby mother Kim Kardashian.
The G.O.O.D. Music rapper rented out the AT&T Park in San Francisco for the special occasion.
PHOTO: Kim Kardashian Post A Photo Of Her Ass-ets On Instagram, Kenye West Rush Home
Before popping the question, Kanye West asked his mother-in-law Kris Jenner for her daughter's hand in marriage and she gave him the okay. Thank goodness that part went well.
Kanye West then went down on one knee like a true gentleman and proposed to Kim Kardashian and she said yes.
According to E! News, the ring is a 15-carat diamond by celebrity jeweler Lorraine Schwartz.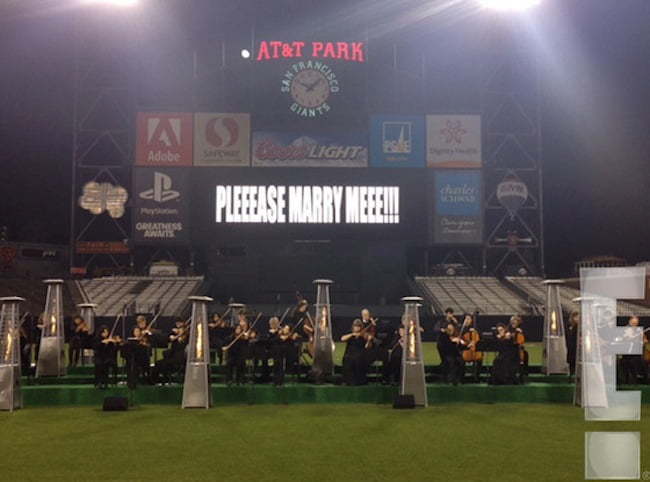 Yeezus also had a huge screen in the backdrop with flashes of "PLEEEASE MARRY MEEE!!!"
He also had a 50-piece orchestra played his duet with Keri Hilson and Ne-Yo "Knock You Down," and also Lana Del Rey's "Young and Beautiful."
Kim Kardashian, who celebrates her 33 birthday today, couldn't asked for a better birthday present.
Kanye West and Kim Kardashian went public with their relationship just over 18 months ago. The couple welcomed their first child together, a baby girl name North West, in June of this year.
Last week Kim Kardashian posted the above photo of her famous ass-ets on Instagram and sent it to Kanye West, who replied on Twitter saying he is "Heading home now."
Perhaps it was that photo that prompted the "Stronger" rapper to put a ring on it.