New York, NY – On August 30th through September 1st 2013, the Caribbean Fever Irie Jamboree Music Festival, a three-day event dedicated to the celebration of the rich culture and musical diversity of Caribbean people, will find it's home at the world-renowned Barclays Center, downtown Brooklyn in New York.
On Saturday August 31st 2013, international mega Soca stars will descend upon the famed Barclays stage for the first ever 100% Soca night titled, "Carnival Mania". Soca royalty Bunji Garlin and his queen – Fay-Ann Lyons-Alvarez; along with fellow Trinidad and Tobaonian artist Iwer George will perform; in addition to, Soca queen Alison Hinds and Krosfyah's Edwin Yearwood of Barbados; Grenada's Jab Jab ambassador Tallpree and St Vincent Soca King Skinny Fabulous are carded to headline "Carnival Mania."
With musical recognition spanning across the globe, Bunji Garlin is one of the Caribbean's foremost stars that have proudly represented Soca music. The award-winning Soca artiste has also won the coveted International Soca Monarch crown four times, nearing the six record win by Soca legend Super Blue, who happens to be his father-in-law. He has collaborated with Busy Signal, Patrice Roberts, Beenie Man, Machel Montano, T.O.K., Nigel Rojas and most recently Major Lazer. "Carnival Mania" patrons can expect to hear the Viking of Soca perform his 2013 chart-topping hit "Differentology," amongst other fan favorites such as "Savage," "Touchless," "Irregular," "Gift of Soca" and classics "Fiery," "Down in the Ghetto" and his newest hit, "Carnival Tabanca."
As one of Soca's leading lady, Fay-Ann Lyons-Alvarez is an accomplished Soca singer and songwriter. Among her impressive list of awards, she became the first female to win all three of Soca's highest titles of Power Soca, Groovy Soca and Road March crowns in 2009, while pregnant. Lyons-Alvarez, who is currently on break from pursuing her Law degree, will deliver high-energy performances of "Get On," "Display" and "Meet Super Blue" and plans to groove the crowd with singles such as "Heavy T Bumper," "Start Wining" and "We Doin' Dis Owah" to name a few.
Make no mistake, Alison Hinds is one of the most iconic female figures in the Soca music industry. Fresh from the 2013 Crop Over season in Barbados, Hinds is riding high off the success of her newest hit "Born Wit It." The former lead singer of Square One will return to the Barclays Center with her feminine appeal, wicked waistline and slew of hits including "Raggamuffin," "Togetherness," "Brace And Wine," "Explode," "Baddy" and the ultimate women's anthem "Roll It Gal."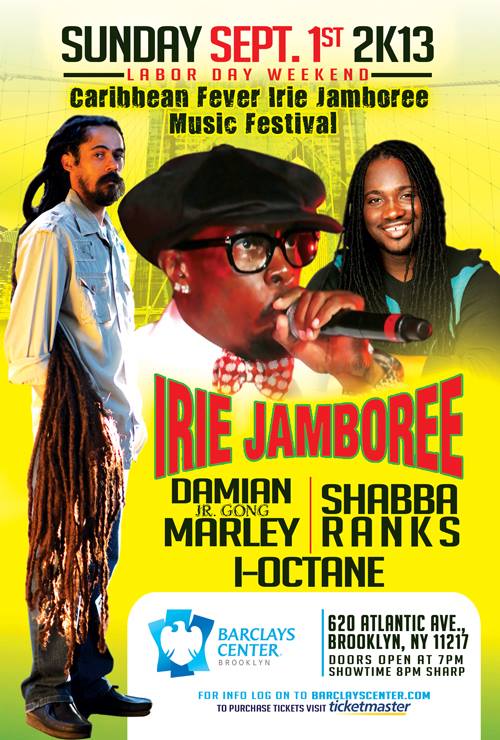 Edwin Yearwood is the founder of one the Caribbean's most successful and sought after bands. With close to three decades in the music business, Edwin Yearwood is known for colorful locks and soulfully sexy voice. Among many acclaims, the soca crooner has garnered five Party Monarch titles, became first the Soca artist to sign to VP Records in 2005 (six album deal) and was named "Entertainer of the Year 2006″ at the Barbados Music Awards. He along with his band will bring to "Carnival Mania" their timeless songs like "Road Jam," "Pump Me Up," "All Aboard," "Handle ya Bizniz," "Nah Missin Me," and international hit, "Sak Passe."
Iwer "D Boss" George has consistently maintained his ranking as a Soca legend, having pioneered the "hand raising" element to Soca music. For over twenty years, the award-winning artiste and entrepreneur has dominated the soca scene with his distinct voice, engaging musical content and legion of die hard fans. Caribbean Fever Irie Jamboree Music Festival attendees can expect hit after hit from Iwer George, who's extensive discography includes classics such as "Carnival Come Back Again," "Ah Wine is Ah Wine," "Bottom in De Road" and his newest selections "Come to Meh" and "Bubble."
Five time Vincy Soca Monarch Skinny Fabulous was recently added to the all star Soca cast, in addition to Grenada's very own Jab Jab King, Tallpree. They are sure to bring their highly energetic performances for hard core, fast tempo Soca lovers.
Caribbean Fever Irie Jamboree Music Festival kicks off with "International Night" on August 3oth with french-speaking legends Wyclef Jean, Kassav and Tabou Combo plus more. "Carnival Mania" takes places on Saturday August 30th and the festival's climatic end will be "Irie Jamboree" featuring dancehall icons Shabba Ranks, Damian 'Jr Gong' Marley, I-Octane, Capleton and Lady Saw.
Soca fans attending the August 31st show are invited to use their social media platforms to show their Caribbean unity using hastag #CarnivalMania
For tickets and information visit Ticketmaster.com.